Van Demon is an online retailer of van accessories with over 40,000 parts available for next day delivery nationwide. We'd worked with them previously to build the first version of their site, and now they wanted to build on that success by making it responsive and introducing some great new features.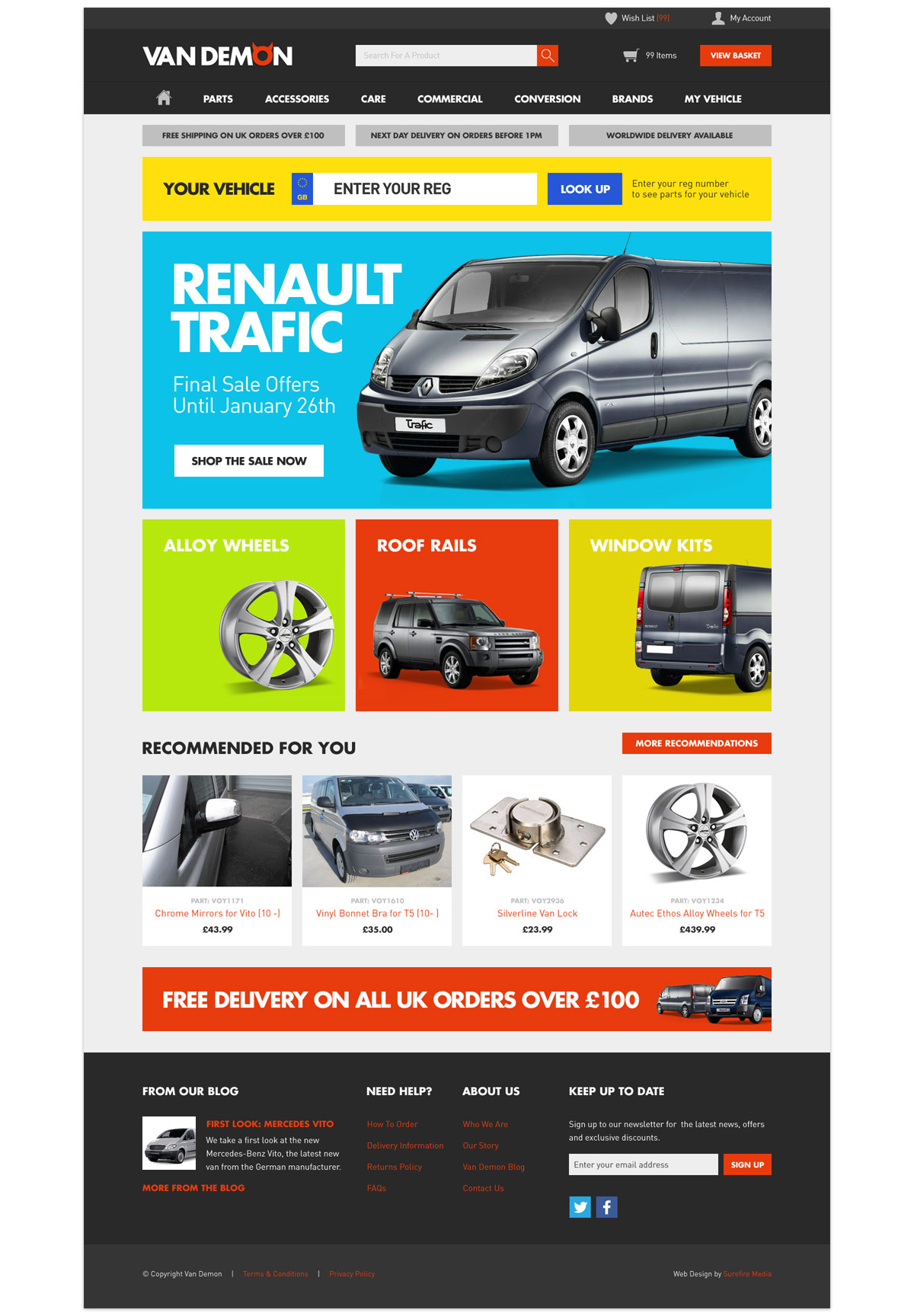 Number Plate Lookup
The key to displaying the right products for our customers is the number plate lookup tool. Customers are prompted to enter their vehicle registration number, and we can then tailor all the products shown to their exact van manufacturer, model and year.

Van Mat Configurator
Lots of retailers are selling plain black floor mats for vehicles. Not many are offering customisation options though. We built a configurator tool that allows customers to choose the material, colour and trim of their mats. Van drivers like to look their best too you know!

Personalised Content
Once a customer has signed up with the site, we can then tailor their experience. Personalised content and product recommendations are shown based on their vehicle, previous purchases and browsing history.

As the website covers an extensive list of van makes and models, there was potential for it to be difficult for customers to find the right part for their vehicle. To solve this problem, we integrated a number plate lookup tool which identifies the exact make, model and year of the customer's vehicle. Once they've performed this look up, all search results and product listings are then tailored to their exact vehicle. This makes finding just the right part a whole lot easier.
The Results
The new site contains a massive 40,000 spares and parts all available for next day, nationwide delivery.
Thanks to a considered long tail keyword strategy that was put in place during the initial build stages of the site, the site receives the vast majority of its traffic from 'free' organic search results.
The site currently receives nearly 60% of its traffic via mobile and tablet devices. These are served up an optimised, responsive site that gives these customers a much better experience.