Crate Hire UK is the premier destination online for the rental of moving and storage crates. In a little under 2 years, they have gone from launching the first version of the site to grabbing a large slice of this market whilst dominating the Google rankings in the process. Surefire has worked with Crate Hire UK every step of the way to help get them to where they are today.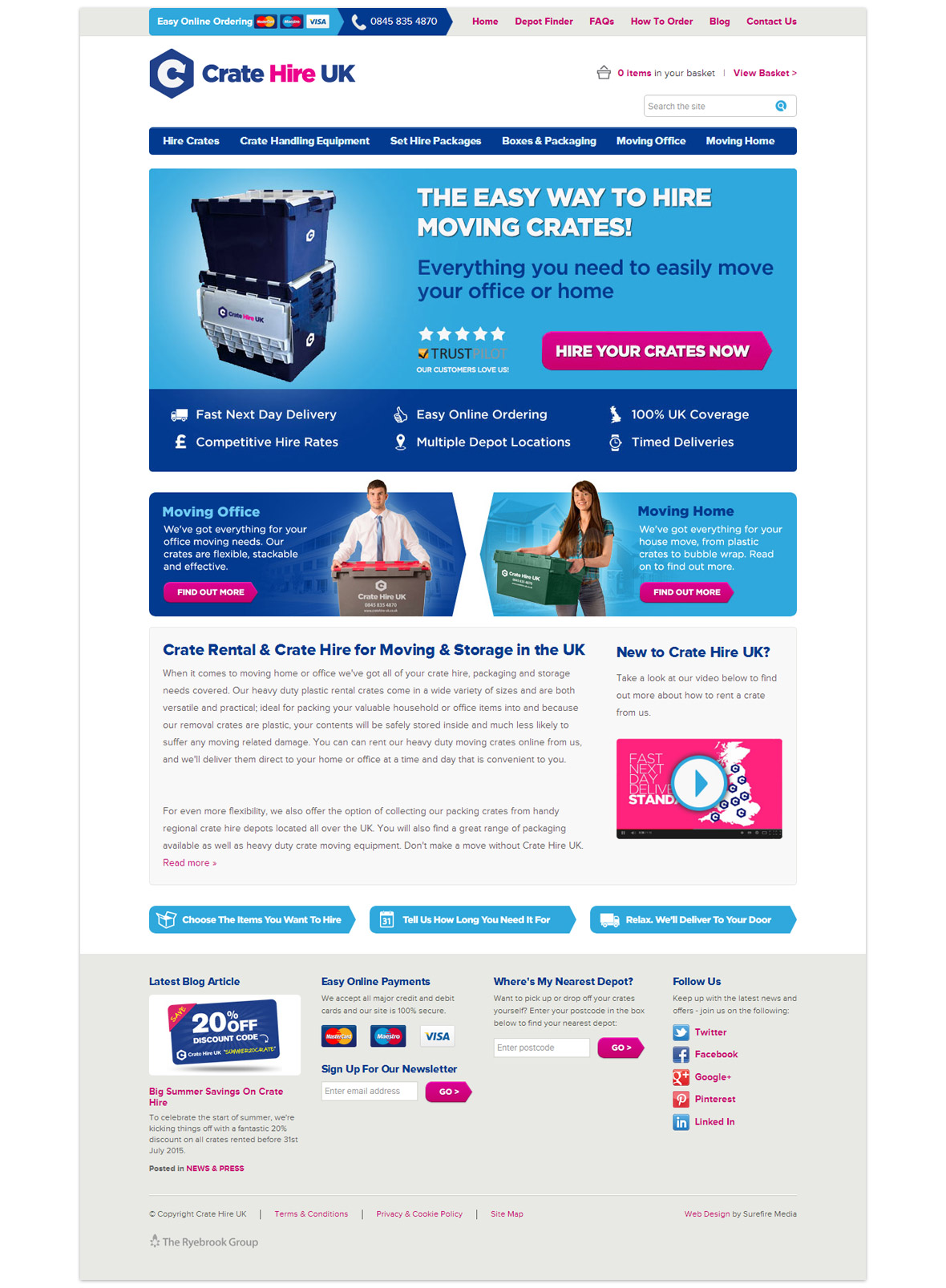 Bespoke Rental Process
Unlike most eCommerce sites, this doesn't just sell products; it rents them too. We created an entirely bespoke rental interface that takes the customer through the process of delivery and returns. The user experience has been tested and tweaked over time to improve the conversion rate.

Business Dashboard
Behind the scenes of the website is a custom web-based system used to control and track all aspects of the orders. Dealing with everything from deliveries, rental extensions and automated, ongoing billing, the business dashboard is the cornerstone to Crate Hire UK's business.

Supplier Integration
We integrated the Crate Hire UK website directly with their suppliers systems. Orders are automatically sent out to Crate Hire UK's partners which greatly reduces the amount of admin. Everything is tracked and recorded so any issues can be dealt with quickly.

The success of the Crate Hire UK site is partly due to the iterative design and development process we've used. Over time, we've adjusted and improved every key process on the website, and have continued to add features that improve the customer experience.

Working in close collaboration with the client, we've tested everything with live customers to see how well changes to the website perform and what effect they have on sales. This has been a real team effort and we're delighted with the results.
The Results
The site converts an extremely high amount of its traffic into sales. Over 5% on average; which is more than double the 'industry standard' for eCommerce sites.
Thanks to our ongoing SEO work, the site sits at number one in Google for both of its big target keywords - "crate hire" and "crate rental".
A massive 67% of the site's traffic comes from 'free' organic search, mainly from Google. A very successful PPC click campaign also runs in tandem to ensure dominance in the search results.