House Décor Interiors make made-to-measure curtains and blinds, offering a huge range of designer fabrics to choose from. Having investigated a range of eCommerce platforms, they couldn't find anything that would let their customers specify their own curtains and blinds themselves. We were given the challenge of taking this complex specification process and creating an easy-to-use eCommerce website that took customers through the journey in a few simple steps.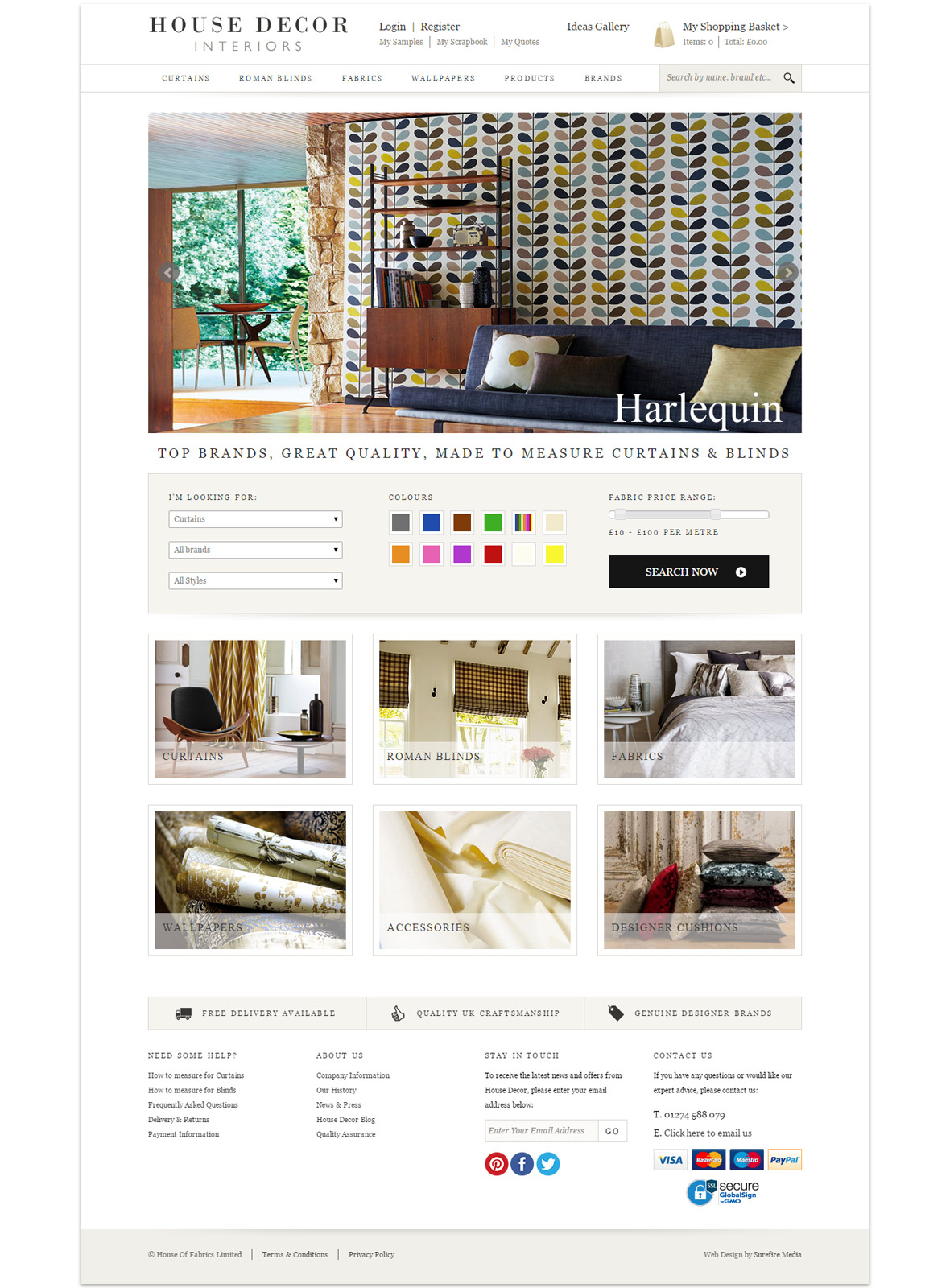 Powerful Search
With thousands of fabrics to choose from on the website, the ability to narrow down the selection is critical. We created a unique search tool that lets the customer specify criteria such as colour, brand, style and price range. This was incorporated into the main navigation so it's available on every page of the site too.

Bespoke Orders
We created a process that allows customers to specify and order their own made-to-measure curtains and blinds via the website. The site makes what could be a difficult process, simple. The customer is also shown detailed pricing info as they create their curtains or blinds for total price transparency.

SEO Baked In
We considered SEO right from the start of the project and this is reflected in the excellent Google rankings achieved by the site. A clever long-tail keyword strategy has produced fantastic results with the majority of the site's traffic being driven by organic search.

The user experience was key to the success of this project. Made-to-measure curtains and blinds have a lot of options that need to be specified. The width, drop, fabric, lining options, heading options, and matching accessories are all chosen by the customer. It was a real challenge to make this easy to understand for the customer whilst retaining all of the customisation options.

The website also shows a running total of the cost of the makeup of the curtains and blinds as the customer specifies them, and shows how the price is calculated. This pricing transparency leads to enhanced trust from the customer and also prevents any nasty shocks when a product is added to the basket.

Since launch, the website quickly became very successful. The site ranks very well for a lot of brand-related keywords which drives a large amount of organic search traffic. This has been central to the fast growth of the website and has meant that marketing costs have been minimal for the number of sales generated.
The Results
Our search engine strategy has paid dividends with the site receiving around 80% of its traffic from organic search each month.
The site now averages around 25,000 visitors a month with that figure climbing even higher at peak times during the calendar year.
Visitors spend a massive 4 minutes and 19 seconds on the site on average. This shows excellent engagement levels from customers.