The internet is full of acronyms and whether you're just getting started or have had your Shopify website up and running for some time, you've probably come across SEO. In this introductory guide, we'll provide you with jargon-free help so you'll better understand what SEO is, why it matters and we'll also cover some of the basic optimisation features offered by Shopify.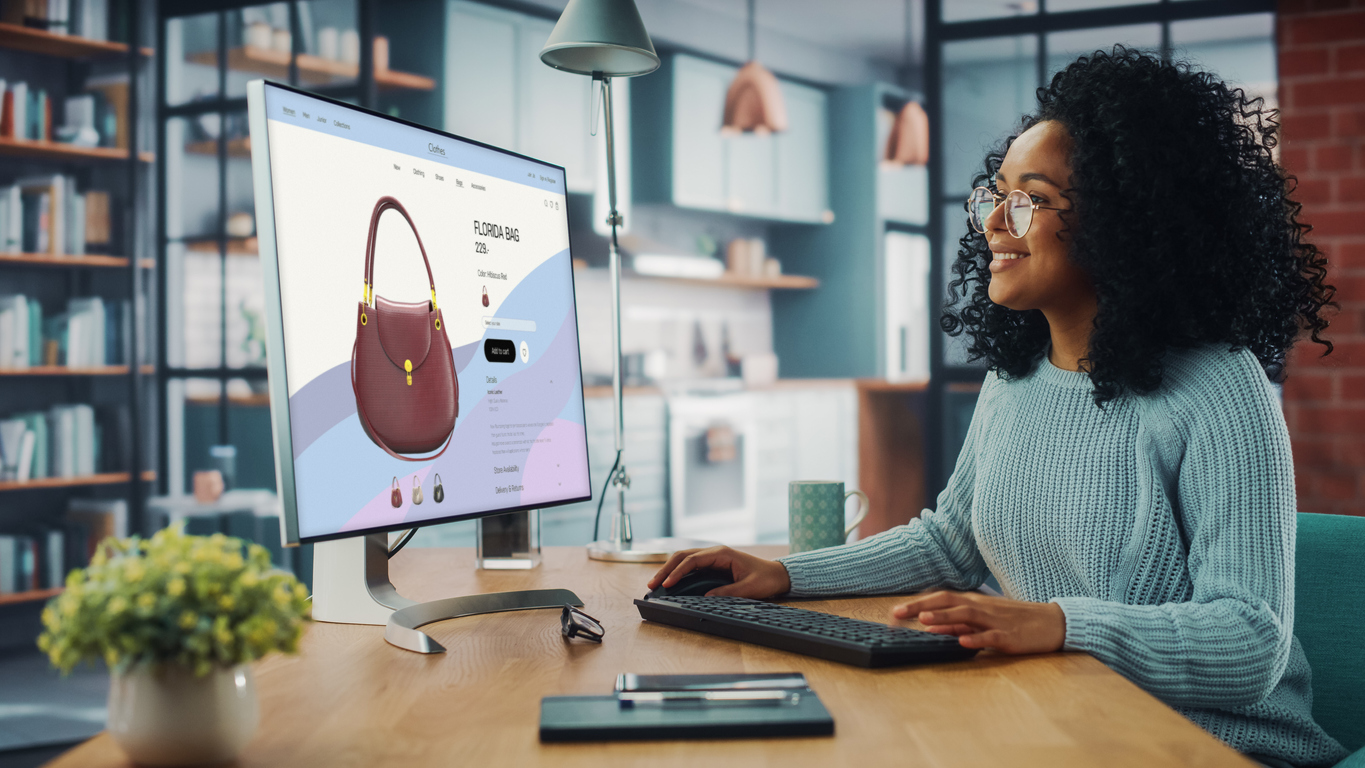 A quick introduction to SEO
SEO stands for Search Engine Optimisation which is the means by which websites can help themselves rank more highly in search results. As Google is by far the largest search engine with more than 92% of internet searches conducted there, we'll refer to Google throughout, but the same information and tips are relevant to any search engine.
Let's say, for example, you run a website selling handmade wooden furniture. You sell all over the UK and your key focus is bespoke oak shelves, dining tables and coffee tables.
You want people to be able to find you in Google when they type in things like 'bespoke solid oak shelves', 'handmade oak coffee tables', 'handmade solid oak dining tables' and so on.
If you were the only website in the world selling those products, then you'd most likely be right at the top of the page of the Google search results. In reality however, there could be hundreds, if not thousands of other websites selling similar products and competing for the same search terms.
In the above example, everyone from John Lewis to Argos is probably going to want to show up in the search results too, and that makes for some stiff competition.
So how does Google determine who to show in their results, and more importantly, how do they determine who's at the top and who's hidden away on page 3 or 4?
The Google algorithm
Enter the Google algorithm, which is actually a series of algorithms designed to find and surface the most relevant website for any given search. These algorithms look at potentially hundreds of different ranking signals to determine which website comes out on top, creating a ranked hierarchy of websites.
SEO ranking signals are wide and varied. Some carry more weight than others and to further complicate matters, over time the weighting changes, new signals get introduced and some old ones get dropped.
Google considers everything from the age of a website domain, how fast pages load and how many other websites link back to the website, right through to the quality of product descriptions, how often the website is updated and the depth of content on that website.
Why does SEO matter?
The most clicks go to the first 1-3 search results shown at the top of the Google search results page. The further down the first page a business appears, the smaller the chances in being noticed and having someone click the listing to visit a website.
In a study conducted by Search Engine Journal, they found that 25% of people click on the first search result. The percentage of clicks declines the further down the first page of results you go and drops to a meagre 2.5% for listings at the bottom of the first page.
Drop off the first page of search results entirely then and your chances of getting noticed grow smaller still. This means it's imperative to do all you can to rank as well as possible for the search terms that matter and that's where Search Engine Optimisation comes into play.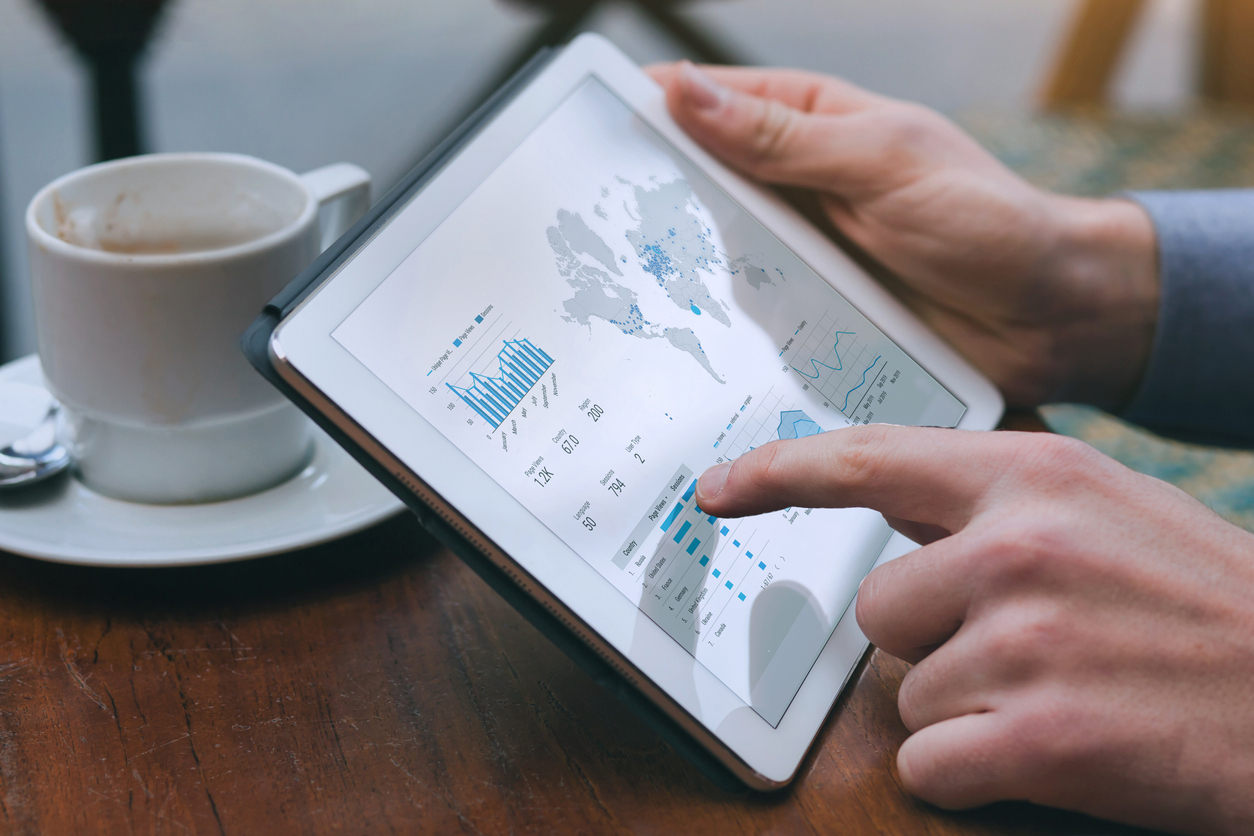 Traffic from Google is valuable
When profiling Shopify website traffic sources, we routinely see a better quality of traffic originating from Google search, known as 'organic traffic'.
What this means, is that when someone arrives at a website after searching and clicking on a result in Google, they are much more likely to stay on the website, look at more pages and then go on to send an enquiry, or complete a purchase.
This can come as quite a surprise, especially to businesses spending a large chunk of their marketing budget on paid ads and other forms of traffic acquisition.
The bottom line is that traffic that originates from Google search results tends to convert better, making SEO vitally important.
SEO tools built-in to Shopify
Shopify has some great basic SEO tools already included, so let's run through some of the options available. These are all standard and don't require any additional apps.
Product title
Meta title & description
Product description
Image alt text
Product title
Your product titles are important for many reasons. Not only do they tell customers what a product is, but they also provide the basis for the meta titles that Shopify auto generates.
Your page titles are tagged by Shopify with a H1 tag. This means 'Header 1' and essentially tells crawlers to pay attention to the words inside that tag. This is one of the many elements that Google uses to start contextually understanding your website and figuring out what it is you do as a business.
Thinking carefully about your product titles means that if you don't have the resources available to allow you to manually optimise the meta title and description on every page of your site, you'll still stand a decent chance of ranking for relevant keywords.

When crafting a product title, where possible, we'd recommend including things like brand names, material, size, colour and anything else that might be helpful and could act as a hook for a customer.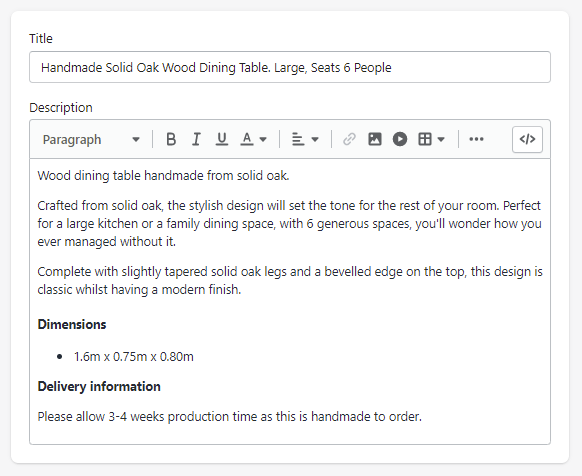 The above example has the following title 'Wood Dining Table', but a better title would be; 'Handmade Solid Oak Wood Dining Table. Large, Seats 6 People' which provides more information to a potential buyer as well as providing more keywords that will benefit your SEO efforts.
You may have seen listings in places like Amazon and Etsy with huge long descriptions, stuffed full of random keywords. That's not we'd recommend doing on your Shopify site, so you'll need a strike a balance, because over optimisation can be just as harmful as lack of optimisation.
Meta title & description
The meta title and description is a critical SEO ranking factor. These exist on every page of your website, from individual products pages to collection and news pages.
This is the information that you'll see on search engine result pages (knowns as SERPs), so they're really performing double duty – giving Google critical information about your website, but also acting as a hook to entice searchers to click on your website.
Shopify auto generates some basic meta information that Google uses, but this auto-generated information is often not well-optimised for the keywords that matter and don't take into account the search terms people are using.
If you scroll to the bottom of the product editor page you'll find a section that shows you the meta information, referred to inside Shopify as your Page Title (which is your meta title) and below that, a section for your meta description.
Here's what that section looks like.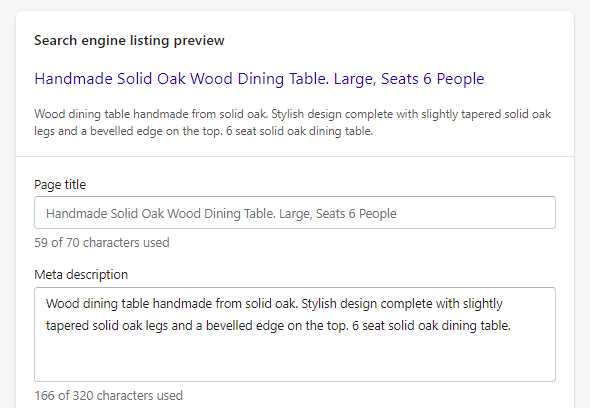 Meta information that is well optimised should include the search terms your customers will be using to find you and will be relevant to the content on the page.
As well as containing the right keywords, meta information should not be too repetitive, must be of the optimal length and should if possible, contain keyword variations.
Although Shopify will auto generate a meta title and description, we'd always recommend manually editing them. This will help ensure important keywords are given prominence and you'll be able to word your description in a way that provides more information within the meta description character limit.
Product descriptions
It stands to reason that product descriptions aren't just important for potential buyers, but they are also important for your SEO too. Google loves detail so it's a good idea to get into the habit of adding as much detail as you can and enriching your product descriptions.
You want to avoid thin and duplicate content, which can harm your SEO efforts, so although supplier descriptions might be nice and easy to use, you can bet that many of your competitors will be using the same information too. You need a point of differentiation and writing something unique and adding more depth and detail here can help.
You can enrich your product descriptions in many ways, for example, by mentioning other styles or products in the same range in your copy and you can then link through to the appropriate product or information page.
It's also a great idea to add some brand personality to your descriptions too. Not only will the copy be more engaging, but it can help make your business more relatable, likeable and as such potential buyers might feel like they trust you more, helping push them towards a purchase.
Read about how to optimise your Shopify product descriptions or check out what Shopify has to say about writing product descriptions here.
Image alt text
Alt text (alternative text) plays a role in SEO, though the text is primarily there for improved web accessibility. Those using screen readers won't see images, so using alt text provides a description of each image on the page.
As well as providing information for visually impaired website visitors, alt text provides better image context/descriptions to search engine crawlers, helping them to index an image properly.
Adding alternative text to photos is first and foremost a principle of web accessibility. Visually impaired users using screen readers will be read an alt attribute to better understand an on-page image.
Your alt text provides Google with an understanding of what an image is since Google crawlers can't 'see' or understand images in the way a human can.
As well as helping with SEO, optimised alt text can make it more likely that you will be found through not just the usual Google organic search route, but through Google image search as well.
Conclusion
Shopify has some great basic SEO features that if used correctly, can lead to more successful SEO. The key is in understanding how to properly use and make the most of those features.
That said, measuring success is equally important. Conducting a search on various keywords to understand the best search terms to optimise for is vital. But when it comes to seeing where you rank yourself do remember that search results are tailored to the individual searcher.
This means, that if you frequently type certain keywords, perhaps to check on competitors or see where you're ranking, Google learns from your search history and tailors your results to you.
You won't get a true idea of where you really rank in the search results this way, so you won't know if what you've done has really benefitted your site or not.
Tools like MOZ Pro or Uber Suggest allow you to track the keywords that matter to you and will tell you how you rank in Google at any given time, whilst Google Analytics will give you detailed information on where your traffic is coming from. It's tools like these that will provide a more accurate picture of how well you really rank and how your website is performing.
A word of caution. Anyone claiming to guarantee to get you onto page 1 of Google is best kept at arm's length. With best-practice followed and as many ranking signals as possible addressed, you will see improvements, but it's simply not possible to guarantee or make predictions in advance.
We'd also strongly recommend avoiding automated link-building tools. This and other questionable SEO tactics are risky, go against Google's best practice guidelines and can easily do a website more harm than good.
SEO is never something you do once and then it's done. Competition changes, the algorithm changes and once you're ranking in the top 5 of Google for a keyword, there's no guarantee that you'll stay there if you stop your optimisation efforts.
Through the continued tweaking of the key elements identified above, you stand a much better chance of ranking well on Google and being found by more potential customers. Good organic traffic levels together with great products, a strong brand and plenty of trust cues, means your Shopify website will be well on the road to success.
Need help with your Shopify SEO?
If you're wondering what to do next in terms of SEO, the expert team here at Surefire can help. We can offer a full SEO audit of your site, create a step by step SEO plan you can carry out in-house, and even a fully managed solution where we'll do it all for you. Just get in touch to find out how we can help improve the SEO of your Shopify site.