On 21st April 2020 Google announced that they would be providing exposure in Google Shopping for free, stating that by doing this, they anticipate helping more shoppers to find the goods they are looking to buy, whilst at the same time providing relief to the retail and small business sector.
Whilst these plans have been in the pipeline for some time, it's the current pandemic that has driven Google to accelerate the roll out, and whilst they are coming to the UK, at the time of writing, this hasn't yet been rolled out here.
Before we discuss how retailers can benefit from free listings, let's first share a bit of background on Google Shopping and how it works before providing tips on how to take advantage of this.
Background on Google Shopping
Since 2012, advertising on Google Shopping has meant creating a Merchant Centre account, submitting a product feed, then paying to run ads through the Google Ads interface. Paid Google Shopping ads have rapidly come to dominate Google, and in the UK, retail advertising spend on Google Shopping Ads now accounts for 82% of ad spend, attracting 87.9% of clicks.
With conversion rates up to 30% higher than standard Google text ads, Google shopping ads can be extremely effective and are a natural choice for ecommerce businesses.
The ability to attract more clicks and improved conversion rates are largely down to the prominent position Google Shopping ads command on the search results page, and the visual nature of the ads as they feature a product image along with clear pricing.
The form and positioning of shopping ads is designed to draw the eye and encourage clicks, click through costs are significantly lower than standard Google Ads text ads, and they provide better conversion rates. Why is it then, that they don't provide a good ROI for all ecommerce advertisers that use them?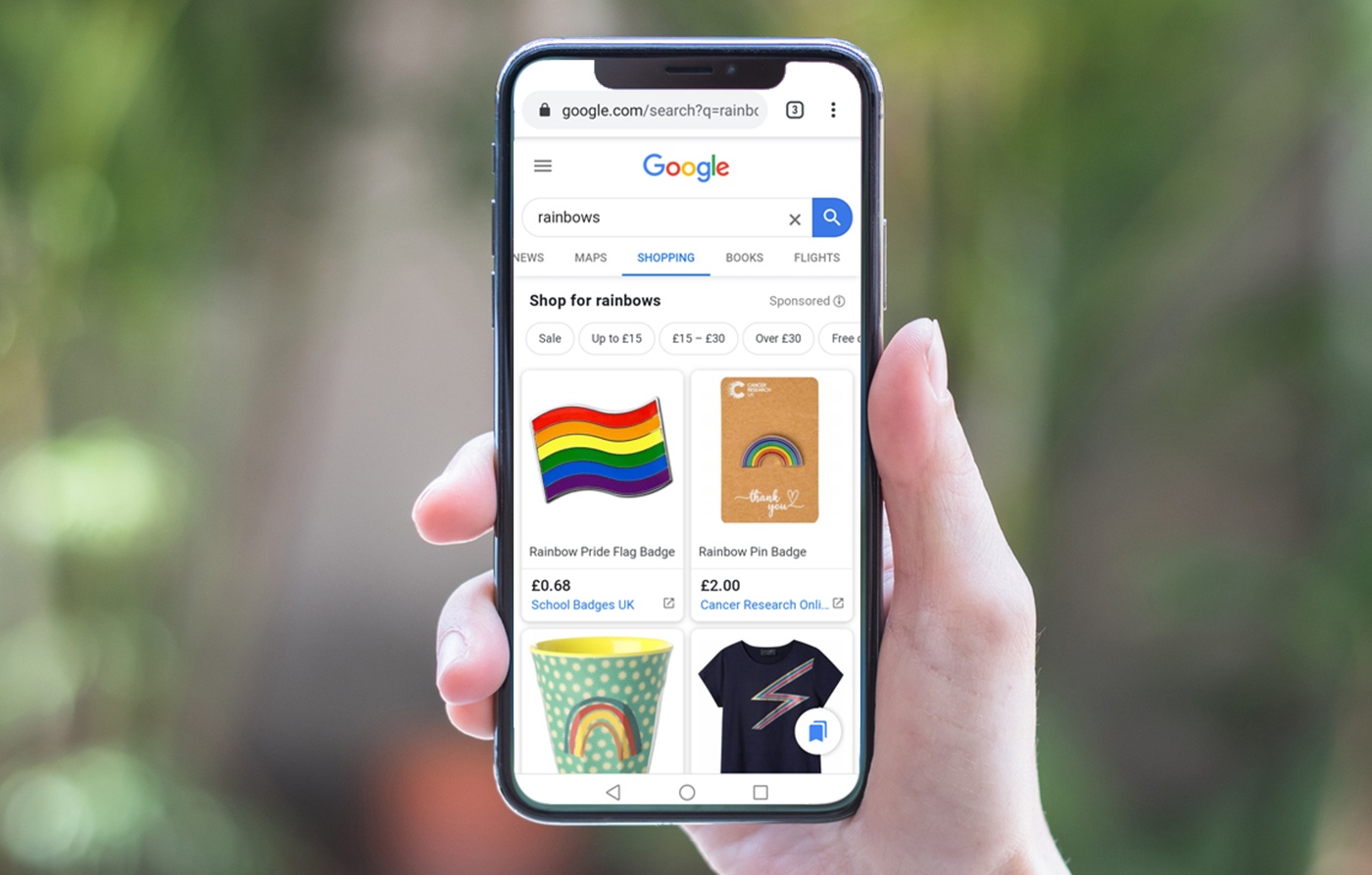 Pricing is key to success on Google Shopping
Assuming advertisers have their feeds correctly configured and fully optimised, perhaps the biggest success factor of all revolves around pricing, and the phrase "race to the bottom" has never been more appropriate.
For retailers selling generic products that can be purchased from multiple websites, the only real point of differentiation shoppers have to go on is price, and the lowest price is guaranteed to attract the clicks.
For retailers who are able to compete effectively on price alone and for those who sell products with little competition, Google Shopping can be an excellent way of attracting more sales, but what about all of those retailers who don't sell unique products and can't offer rock bottom pricing?
After pricing, brand awareness is the next key aspect in determining Google Shopping success. A well-known and trusted retailer might be able to charge a little more and still attract clicks as they benefit from an awareness of their offers such as free shipping or providing great customer service.
Smaller retailers, new retailers and those who can't compete solely on price and don't have a healthy advertising budget to begin with, can however find that the results they achieve with Google Shopping are somewhat limited.
Remove the need to set aside a budget to appear in Google Shopping though, and it suddenly provides a far more viable option for a greater number of ecommerce businesses. This is clearly good news, but there is one huge caveat.
Advertisers will still be able to pay to achieve top positions in Google Shopping (i.e. appearing right at the top of the search results page without the need to click on the separate Google Shopping tab), meaning advertisers that have a significant Google Shopping spend will continue to dominate.
The latest announcement from Google relates only to listings viewed from the Google Shopping tab and indicate that Google is heading in the direction of evolving Google Shopping into more of an online marketplace, more akin to the likes of Amazon, eBay and Etsy.


How to participate in free Google Shopping listings
To be eligible you'll need to ensure that your existing Google Merchant Centre product feeds are opted into "surfaces across Google".
For retailers who don't have an existing Google Merchant Centre account, you'll need to set one up and apply to be included. Whilst the onboarding process isn't typically quick or particularly straight forward, and getting your product feed accepted can take time, Google claim to be working on making it smoother.
As it stands, the free listings are only live in the US and although it's coming to the UK soon, as yet there is no firm date as to when this will be. We're anticipating it could be months rather than weeks away.


What UK retailers should do now to prepare
If you already have a Merchant Centre account you should make sure that you are opted into "surfaces across Google". Once this feature does go live in the UK, you won't need to do anything else.
If you don't have a Merchant Centre account and don't currently use Google Shopping, you should apply now and get everything set up here.
For those with Shopify websites, you can easily create a Google Shopping feed with the Shopify Google Shopping App.


The opportunity to easily obtain more relevant clicks at no cost should not be overlooked.


There's no doubt that this offers a great new opportunity for ecommerce businesses. With Google predicting a 3% to 5% increase in clicks as a result of their free shopping listings, the opportunity to easily obtain more relevant clicks at no cost should not be overlooked. Ecommerce businesses need to take action now to ensure that they benefit from free Google Shopping listings as soon as they roll out here in the UK.
Our advice for now is not to switch off any paid Google Shopping campaigns you're running either now or once the free option rolls out. As a current paid Google Shopping advertiser, taking advantage of the free listings when they become available in the UK will allow you to compare and contrast the results you get, helping to inform future decision making. Paid ads will however, continue to retain far greater prominence and provide higher click through rates than the new free listings.
For ecommerce websites who currently don't pay for Google Shopping ads and perhaps don't have the budget available to consider this as an option for the future, then the new free listings within the Google Shopping tab will provide much-needed visibility without the need to set aside an ongoing advertising budget.
Whilst we don't expect the results to be spectacular as click volumes are likely to be comparatively low, they will provide an effective route to appearing multiple times in search results and will give you visibility in Google Shopping, without the need to set aside additional advertising budget.


Helping you get the most out of Google Shopping
We frequently help Shopify retailers to get set up on Google Merchant Centre and Google Ads. We can ensure your feed is fully optimised, helping you to drive traffic and increase sales whether you want to pay to advertise on Google Shopping or take advantage of the new free listings once they roll out.
Get in touch with us to have a chat about how we can help you.