For some high competition search terms it's impossible to outrank the big brands, so how can you appear on the first page of Google without investing heavily in Google AdWords or ongoing SEO? Local SEO could be the answer you are looking for.
What do we mean by local SEO?
Google My Business is the king of local SEO and you've probably already seen it in action. Google search results are made up of 3 main types of listings, organic search results, paid search results (Google AdWords) and local search results.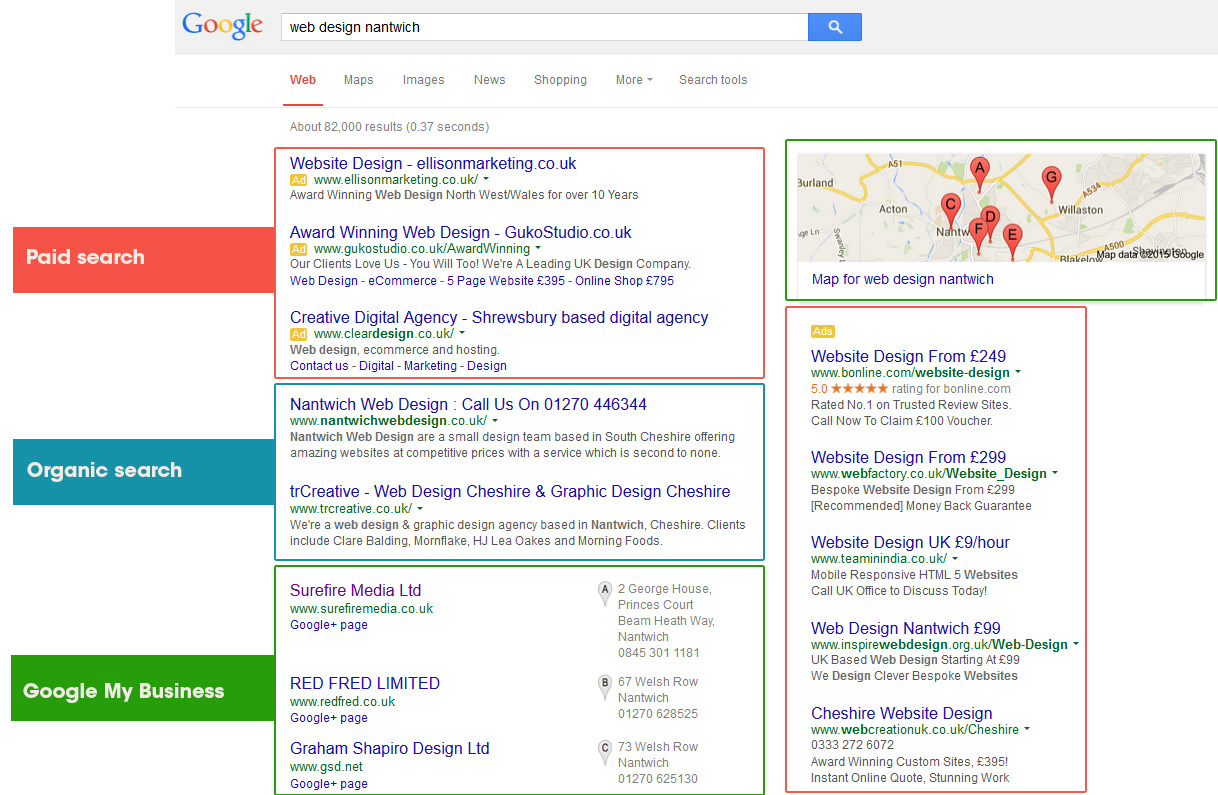 Google My Business allows you to connect directly with your customers, whether they are using search, Google Maps or Google+ and provides everything from contact details and opening times to directions and route planning.
Unlike other kinds of SEO, Google My Business requires a one-off set up, and that's it. Once done, Google will list you under their local search results. This gives you easy, front page visibility, without having to use AdWords or spend months working on your organic SEO.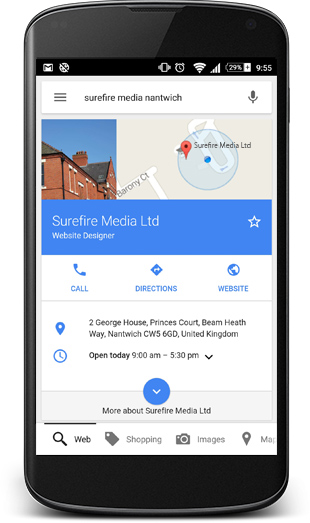 Google My Business helps you attract new customers and comes with ratings and reviews functionality, which provides that all-important social proof.
What's Involved?
There are a number of ways to make the most out of your Google My Business listing. First, the listing needs to be claimed and verified. Branding is super important – a branded page provides brand consistency and positively influences recognition which helps to build trust. We'll ensure your logo, cover image and messaging are designed to fit perfectly with your brand, so you can make the most of your My Business listing.
Here's the process we'll follow for you:
Claim and verification of your Google My Business page
Customisation of your logo, cover and any other images you'd like us to add
Add all of your contact details and a link to your website
Write an SEO friendly business description
Choosing the best categories for your business, a critical component of Google My Business
Get Started With Google My Business
You don't need a big budget, and there are no on-going costs (unless you'd like us to keep your page updated for you), just a one-off fee to get you up and running. This gives you every chance of ranking on the first page of Google through Google My Business.
Ready to appear on the first page of Google? Get in touch with us.