Working with a broad range of clients means we get to talk to lots of local start-ups and small business owners, many of whom are struggling to get the most out of social media. This has lead us to introduce a brand new service, in the form of tailored, individual social media training.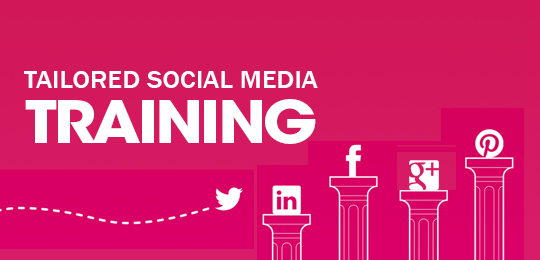 Social media can help a new business grow and improve the reach of an already established business, making it a powerful tool that can play an important role in marketing.
Social media plays an integral role in brand building and search engine optimisation and is also a highly effective customer service tool, but as social media continues to grow in popularity, it is increasingly difficult to get your voice heard. Ensuring your posts grab the attention of your increasingly distracted followers, is now far more challenging.
Social Media Training For Small Businesses In Cheshire
Social media training will help you to make sure your voice is heard and will equip you with the necessary skills to ensure you get the most out of everything you do.
We believe you'll get more out of a Surefire social media training session, as everything we do is tailored to you. So whatever your training objectives are, we'll help you achieve them.
Social Media Training Tailored To Your Individual Objectives
Group training sessions will often give you a broad overview, and may often be more general than you'd like. With one on one training, we'll visit you at your home or business, or if you'd prefer, you can visit our office in Nantwich.
Expert advice and tips tailored specifically towards your business
Our training sessions generally take half a day, running anything from 2 to 4 hours, depending on how much you'd like to learn. From the absolute basics of what social networks you should be using, getting your profile set up, branded and verified right through to ideas for content creation, strategic content marketing, engagement activities and sales promotions. We can also cover how to track and measure the success of what you are doing using Google Analytics and managing activities across multiple social networks.
We offer training on the following:
Pinterest
LinkedIn
Facebook
Twitter
Google+
Instagram
What You Will Learn?
You can expect to come away with enhanced knowledge of strategic marketing, understanding the best social networks for you to use and how to reach new followers. You will learn about creating engaging content, posting frequency, pitfalls to avoid, calls to action and tactics you can use to grow your followers.
You'll also learn about features specific to individual social networks, like LinkedIn Groups, Google+ communities and Facebook Insights. We'll take you through the pros and cons of each social network, and we'll explore the paid advertising options available to you.
Don't worry if you'd like to cover other topics too, our training is tailored to what you want to achieve, so just let us know and we'll make sure it's included.
Why Choose Surefire Social Media Training?
Our training is relaxed, informal and moves at your pace. You can ask as many questions as you like and you'll get expert advice and tips tailored specifically towards your business. You'll also walk away with plenty of ideas that you can easily implement, so you can start benefiting straight away.
At the end of the session you will receive copies of all training materials, including links to handy online resources, to help you keep your social media activities on track.
Enquire About Social Media Training
Please get in touch with Shell today who will be delighted to discuss your training requirements with you, and provide you with a quote.
Contact us here or give us a call on 0845 301 1181.