For the past few years, we've been advocating ethical, sustainable SEO practices, with quality content at it's heart. This is in line with Google's search quality guidelines, recently published in full for the first time.
This content-first approach works, resulting in long term improvements that we are able to continually track and measure.
Working with a large local legal firm with offices in multiple locations across Cheshire and Shropshire, we made a real difference to both their website traffic and to their rank in Google.
Within a few months of working with them, we'd achieved some impressive results.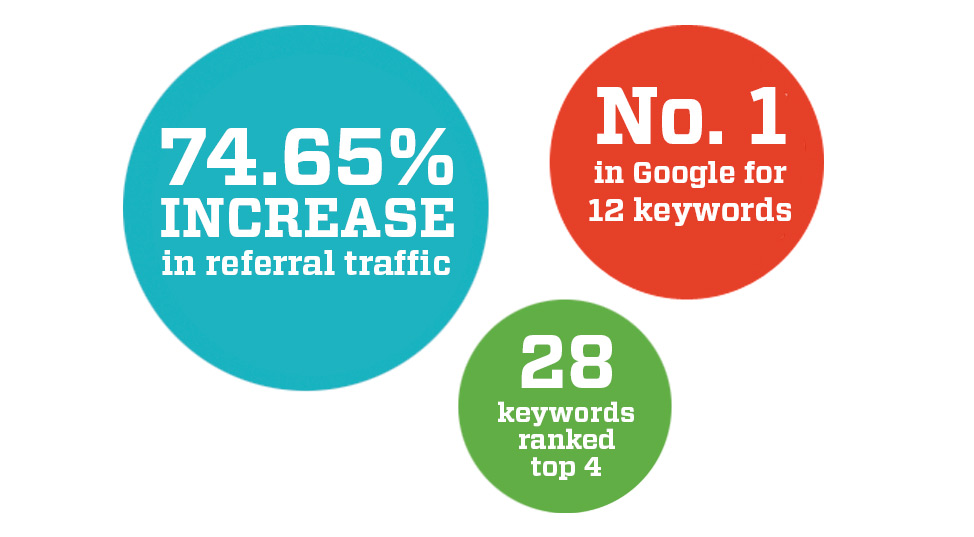 Legal Sector SEO Results
74.65% Increase in referral traffic at 6 months
By month 6 we had seen a 1420% Increase in traffic generated by social media
16 out of 28 keyword phrases were ranking in the top 5 of Google when we started working with them, by month 6 all 28 keywords were ranking in the top 5 of Google
They ranked in the top 4 of Google by month 7 for all 28 of their tracked keyword phrases
100% increase in keyword phrases ranking at number 1 in Google, from 6 keyword phrases ranked at number 1 in the first month to 12 ranked at number 1 by month 6
What will Surefire SEO services do for your website?
Google best-practice
By using ethical, sustainable SEO and staying ahead of the curve in the techniques that we use, we help to improve your rank in search and our activities aim to keep you there, even in the face of big new algorithm updates.
Quality traffic and relevant keywords
We identify the most relevant, valuable keywords for you and focus our activities there. By avoiding a scatter gun approach we are able to focus on keywords that will bring you the best possible visibility in the SERPs, providing you with high quality visitors, helping to improve engagement and lower your bounce rate.
Optimising more than just your content
We don't just limit what we do to traditional SEO, we also help help you by suggesting ways that your website can generate more enquiries and convert more sales. We'll advise you on how to make your website better, from general usability issues to generating ideas to help improve your content.
Tailored solutions
We tailor solutions for your specific needs. We start by auditing your website, investigating your market and your competitors and understanding your objectives. We'll then create a bespoke content focused SEO plan, that will help to ensure your website ranks better in search.
No generic software generated reports
We've lost count of the number of software generated reports we've seen from various SEO companies. They can be helpful in identifying some basic areas that need attention, but they rarely provide any real insights or advise on how to do what is needed, or consider what is possible within the framework of your website.
We take a human approach and present and analyse figures that mean something. Each month we'll report on key metrics and provide you with true insights, giving you a clear picture of the progress made.

Ongoing client support
We don't just limit what we do to traditional SEO. We'll support you with marketing strategy as well as content creation, including graphic design, asset creation and blog writing. Drawing on your expertise we can create high quality content for you that will help to attract new customers, improve conversion rates and your authority.
Flexible contracts
We offer a completely flexible contract, which means you can continue activities for as long as you wish or scale things back if necessary. We start off by recommending an initial minimum of 3 months activity. After 3 months we'll have a good amount of data to look at, and you'll be able to make a decision based on the results we've achieved.
After the first few months when the bulk of on-page optimisation is done, you might want more support with content creation (downloadable eGuides, creative assets for advertising campaigns, writing of blog articles) or you might decide that you want to place more focus on things like Google AdWords or blogger outreach; whatever support you need, we can help.
To find out how we can help you, contact us or give us a call on 0845 301 1181.