Crate Hire UK approached Surefire in 2012 as a start-up business requiring a brand new ecommerce rental website. The client also wanted the new website to be supported with on-going marketing activities including PPC advertising, social media, content marketing and SEO.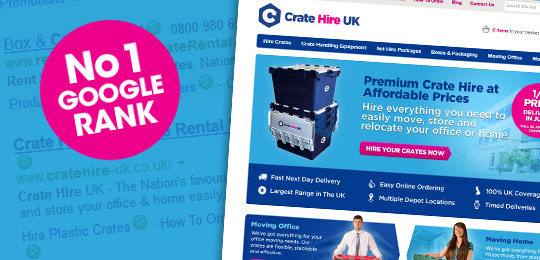 What We Did
We built the bespoke eCommerce website for Crate Hire UK with a full content management system, allowing the client to easily update the website and keep the content fresh. The user interface and custom functionality were developed with the vision of enabling visitors to find key information and complete goals in the most efficient way possible.
The website was structured to ensure it was search engine friendly and both on-page content and the code was fully optimised. The blog on the website provided an effective way to ensure regular content could be added to the site, increasing and improving the overall scope of content.
All of this meant that the Crate Hire UK site was designed so it would appeal to both visitors and search engines.
The revenue generated by the new site paid for the cost of development within 6 weeks of launch.
When the website launched, Surefire made sure that relevant tracking was implemented, including Google Analytics, conversion goals, Google Webmaster Tools and Bing Webmaster Tools. Various social media networks were set up, fully branded and optimised and a social media marketing strategy planned and implemented that would allow us to grow these communities from zero.
The website went live in July 2012 and within six weeks, the revenue generated by the new site had already exceeded the cost of development. This allowed the client to invest in on-going activities which we carried out in conjunction with them.
PPC
Google AdWords was used to achieve maximum visibility in search results, ensuring that the website was not only ranking at the top in organic search, but was also benefiting from the additional visibility generated by paid search. The approach lead to a strong increase in both traffic and website conversions.
Fig. 1 Google search results for "crate rental" as at 11/07/2013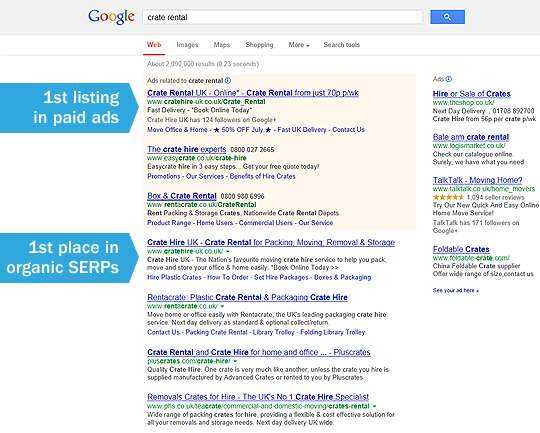 SEO
Search engine optimisation was considered at every stage during the design and build stages of the website. All on-page content was both fully optimised and geared towards providing visitors with clear information to aid their purchasing decision. All META content was written to ensure it was unique and theme relevant and was continually revised during the first few months.
As well as on page optimisation we also carried out active link building activities and our content creation was closely aligned to SEO, allowing us to target specific key phrases within each new piece content.
Content Marketing
The blog section of the Crate Hire UK website has helped to drive the creation of high quality content with several new blog articles being written monthly. The quality and relevance of this content has helped to ensure strong levels of engagement, evident in the high number of shares and comments. This has allowed us to reach an extended audience base by writing about related topics that a wider range of people would find interesting and useful.
All new content is routinely promoted via social channels, through email marketing and social bookmarking websites which all help to increase its natural reach.
Social Media
Engaging with people over crates proved challenging and required us to quite literally, think outside of the box. We identified related areas of interest and built a social media strategy based around that and a desire to provide high levels of customer service.
A competition we ran via a custom Facebook app was a huge success and received over 9,000 entries.
This has meant daily active monitoring of all of Crate Hire UK's social media accounts and the execution of various activities designed to promote engagement which have all helped us to increase brand awareness, provide high levels of customer service and promote the company.
As a result, we have seen consistent steady growth across Twitter, Google+, Pinterest and Facebook but, more importantly, we've observed a direct correlation between our social media activities, website traffic and social conversions.
The Results
Fig. 2 Year 1 Website Traffic

Traffic has continued to grow since we launched the website. Coupled with a high conversion rate, this has seen revenue generated by the site follow a similar trend.
Fig. 3 Goal Conversions

Number 1 in Google for primary keywords (see Fig. 1)
Consistent growth in website traffic and sales (see Fig. 2 taken from Google Analytics)
Domain Authority of 30 and Page Authority of 41 which are continually on the increase
On-going social media activities are successful at driving high quality website traffic with multiple social conversions achieved each month
Over 1,000 quality website backlinks to the website
High share rates of blog content
Strong levels of engagement across social networks
Summary
Bringing a new web based business to market is always a challenge and in terms of SEO. New domains are notoriously difficult to get ranking well in organic search results, especially where high competition key words are concerned.
Ongoing investment has been made possible by the sales generated through the website, a direct result of ranking well in search results. By supporting the site's high search visibility with brand building activities across social media and through the regular publishing of high quality content, the website has been able to attract high quality traffic that continues to convert well.
Ongoing investment will always lead to the best returns, particularly in terms of SEO where ranking algorithms change frequently. By continually monitoring the website, insights we've obtained have allowed us to fine tune activities to ensure a fantastic return on investment for Crate Hire UK.
If you would like to find out how Surefire can help you with SEO, get in touch with us. Alternatively, you can find out more about our SEO services here.