A fast-growing IT company was keen to improve their organic rank for a range of keywords relating to their key service areas. Particularity interested in improving their visibility in local search results, the competitive nature of the clients industry meant that they were not ranking at number 1 for any of their primary search terms, and were within the top 5 for just 9.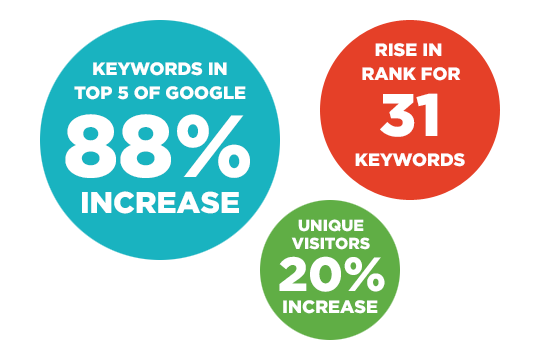 What We Did
After defining the objectives of the project, we went on to carry out a thorough SEO audit, including competitor analysis and keyword analysis which helped us to determine the areas we needed to focus on. We then devised an initial 3 month plan which included a range of content marketing activities.
Early results observed at the end of month 1 were extremely encouraging, with improvements in most KPIs and strong performance in terms of organic keyword rank
Once the proposed activities were agreed, we started off by defining the most useful key performance indicators and took benchmark stats to allow for effective on-going comparison of results.
Number 1 in Google for 4 local search terms, after just 1 month
We quickly took care of various verification processes, and set up our rank checking and monthly reporting mechanisms. META content and on-page copy was optimised, starting with the main service pages of the website and Analytics was reviewed to show us the most popular content pages, which we focused on initially.
Some Of The Activities Carried Out During Month 1
Benchmarking
Competitor analysis
Keyword analysis
Set up and verification of Webmaster Tools
Generation of blog article content ideas
Looked for evidence of penalties and damage from poor quality back links
On-page content optimisation
Revision of calls to action on key service pages
META optimisation
Improvements made to existing blog articles
Verification of Google+ Local and removal of unverified duplicates
Supporting clients social media with regular updates of their Google+ page
Month 1 Results Compared To Previous Month

Key changes at the end of the first month;
Rises in rank for a total of 31 tracked keywords
Top 20 for 31 keywords, compared to 19 at the start of the project, a 63% increase
Top 10 for 24 keywords, compared to 14 at the start of the project, an increase of 140%
Top 5 for 17 keywords, compared to 9 at the start of the project, an 88% increase
Number 1 in Google for 4 keywords compared to 0 at the start of the project
"VoIP provider Manchester" previously not in top 100, now number 14
Website traffic (unique visitors) improved by 20%
All of the above stats relate to activities that were carried out in a 1 month period, 18th August 2014 – 17th September 2014, compared to the 1 month period prior to activities starting of 18th July 2014 – 17th August 2014.
Need Help With Your SEO?
We use sustainable, ethical SEO techniques that focus on providing your website visitors with high quality content. We also utilise local search tools to help you improve your organic search rank, helping you to attract more local customers.
To discuss your SEO needs or for a free SEO audit of your website, get in touch with us here.