Niche online clothing retailer XLme.co.uk approached Surefire in June 2013 after they noticed a drop off in their website traffic and a corresponding drop in website sales.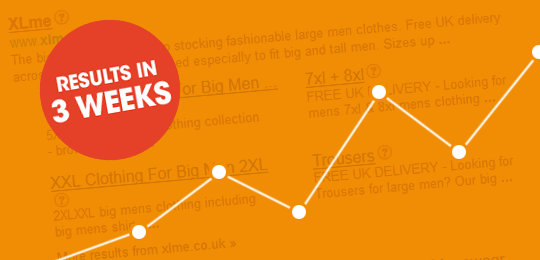 The Brief
The client requested that we devise and implement a new SEO strategy that would primarily address the drop in traffic and help to provide better visibility in organic search against key competitors.
Summary of recommended activities
Visual re-design including logo and branding
Full content overhaul
Removal of harmful SEO e.g. such as redirects
On-going SEO including content creation, link building and improving the quality and relevancy of content
Social media management including engagement and community growth

What We Did
Before starting the project we established key performance indicators, including metrics like back-links, traffic, referrers, conversion rates, rank for specific keywords and so on. These benchmarks would then provide us with an on-going reporting mechanism, allowing us to measure progress made.
Our initial investigation showed a clear correlation between the decline in website traffic and the introduction of the latest Google Penguin update which was rolled out in May 2013. Using keyword analysis, we also found that the keywords currently being targeted by the website were ineffective at generating traffic so we identified more effective keywords to target.
It was agreed that our immediate concern should be in addressing the fall in traffic so we recommended that we start the project by focusing on reversing some of the damage done by out-dated SEO techniques that had previously been implemented. We immediately set about removing these damaging techniques, including keyword stuffing, duplicated content and redirects.
Whilst addressing the out-dated SEO, we also focused on improving the quality of the website's content. Spammy content was re-written, page titles and links re-named, META content optimised and content throughout the website was tweaked to improve its overall quality.
Early Results
Whilst many of these activities remain on-going, initial results have proved highly encouraging.
1. Increase in traffic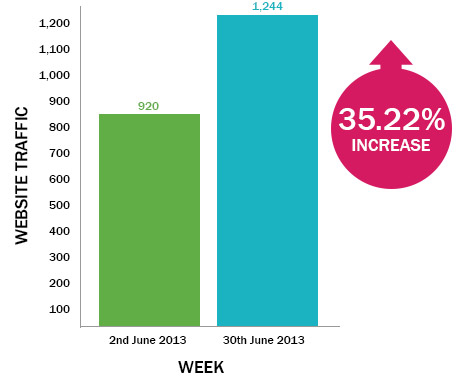 35.22% rise in traffic compared to benchmark stats taken in earlier in June.
2. Increased page visits, views and duration

Increases in the number of page views and a substantial increase in the average visit duration has been achieved.
3. Upward trend re-established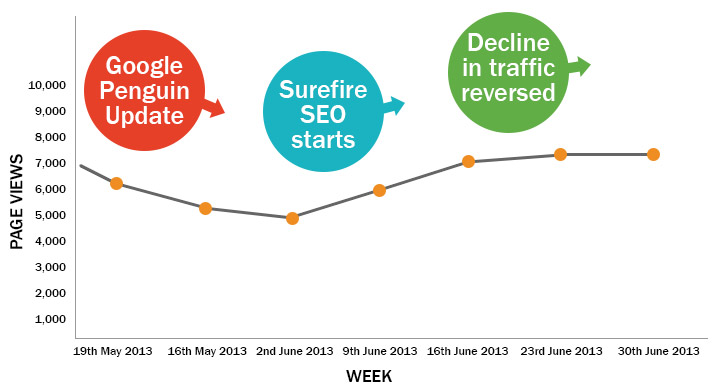 Activities that started early in June have reversed the decline in page views, a trend which had been evident since May 19th, around the same time Google Penguin was updated in the UK.
4. Keyword rank
Desired keywords are shown below, followed by the benchmark rank taken on June 20th 2013 and the rank observed just over 2 weeks later on 8th July 2013.
"Big man clothes"
Google Rank 20th June – 31
Google Rank 8th July – 19
"Big mens clothing"
Google Rank 20th June – 34
Google Rank 8th July – 27
"Big mens clothes"
Google Rank 20th June – Not in top 60 results
Google Rank 8th July – 38
Whilst we still have some way to go in order to achieve first page results, improvements in rank of up to 63% after just 3 full weeks of activity, shows that our SEO is working effectively.
If you would like to find out how Surefire SEO can help you, get in touch with us. Alternatively, you can find out more about our SEO services here.