Think it's too early to be thinking about Christmas? Wrong! Your customers have already started their Christmas shopping, and retailers who are quick to attract customers early in the shopping season are benefiting from a boost in revenue.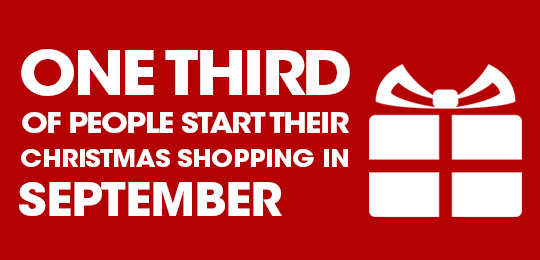 Matalan was one of the first major UK retailers to launch and actively advertise their Christmas 2014 landing page at the end of October. A shrewd move, allowing them to benefit from people ready and looking to spend now, in order to better organise and spread the cost and Christmas.
A Third Of People Started Christmas Shopping In September
A report from 2013 found that a third of people admitted to starting their Christmas shopping in September, so retailers need to be aware of this in order to capitalise on this increase in spending.
This fact might be hard to believe, but with families ever more cash-strapped, the need to spread the cost of Christmas is higher than ever before. People with large families for example, will need to purchase more gifts, making it necessary for the cost of Christmas to be spread over several pay packets in the run up to December.
Black Friday 2014 falls on Friday 28th November, and typically marks the busiest online shopping day of the year.
For any online retailer, ensuring your website is Christmas-ready as soon as possible is critical. It's true that two thirds of Christmas sales won't be made until later – in November / December – but why miss out on potential sales from those early shoppers?
It will take time for your Christmas landing page or gift guide to get ranked in Google, so don't leave it until the last minute to get your new content live.
For smaller, or less well established websites in particular, it can take Google several weeks before it will rank new content. When people are searching, you need to make sure your Christmas content is already listed and ranking well in Google, so from an SEO point of view alone, it's important not to leave publishing Christmas content until the last minute.
Reasons To Have A Christmas Landing Page
A nicely designed, fun Christmas landing page allows you to grab the attention of Christmas shoppers and will be far more engaging that your regular site content.
Better engagement helps you to keep eyes on the page for longer, maximising your chances of making sales.
Shoppers expect retailers to provide a one-stop area of their website where they can easily access products related to Christmas. Landing pages allow you to group products together to make the shopping experience simpler for customers.
Christmas landing pages allow you to differentiate and highlight your stock whilst sales promotions can help increase average basket values.
A landing page allows you to bring all of your seasonal content together, bringing clarity to your Christmas proposition.
Landing pages are a great place to direct people from email marketing or online advertising campaigns.
SEO-wise new good quality content is always helpful, providing you with more pages for search engines to rank.
Landing pages, gift guides and email marketing campaigns will all help you to secure more sales over the Christmas trading period, and the design, optimisation and marketing team here at Surefire can provide you with everything you need to make the most of the Christmas period. Get in touch with us here.
Find some more tips on getting your website ready for Christmas here.
If you are still looking for more ideas, why not download our Christmas Marketing ideas eGuide here.