Earlier this year, Surefire turned 11 years old, which is actually quite an age in Internet years. We've seen lots of changes during that time including the so called Web 2.0 to the dramatic rise of social media. Arguably the biggest change is in how we all use the Internet today. When we first started out, we only had to design websites for viewing on desktop computers and laptops. Now, we have to build sites that work on computers, laptops, tablets, smartphones, TVs and even watches.
So, as we approach our teenage years, we felt it was time to move things forward again. Today, we're excited to share with you our new branding and website.

The Rebrand
We wanted our new brand to reflect the next step forward for Surefire, to show how we've evolved, and to give us a strong, recognisable visual identity that can be rolled out across everything we do.
Our new logo is actually a development of the original one we launched with, progressing the idea of the flame symbol. What was originally part of the lettering has been developed into a standalone graphic device that can be used independently of the wordmark.

The new symbol works well as a social media profile icon or a browser favicon (see the tabs in the top of your browser window), and gives us a a variety of options when used as a mask for photography.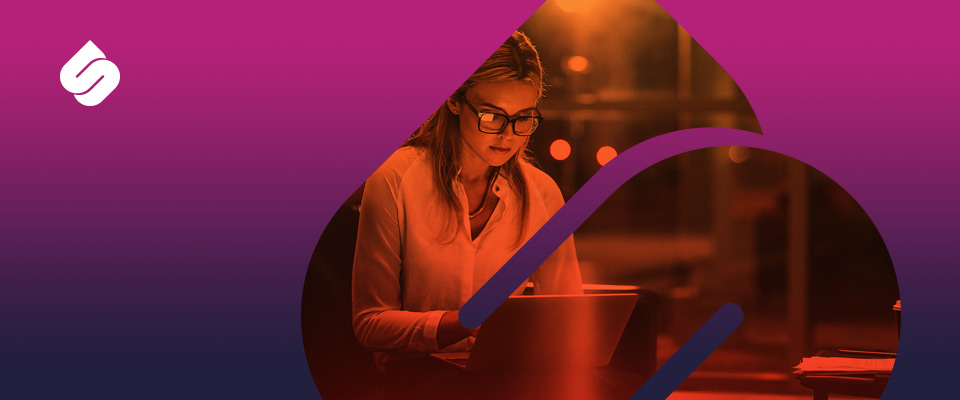 We've also introduced a set of complementary colour gradients, based around the fire theme, to represent the evolving nature of the web and the work we do. Take a look at the top of this post to see how we use the gradients to bring some subtle movement into the headers for example.

Our New Website
Finally, we've given our entire website an overhaul. This is the fourth major version of our site since we first launched back in 2008. I dug out some screen shots of very first site for comparison…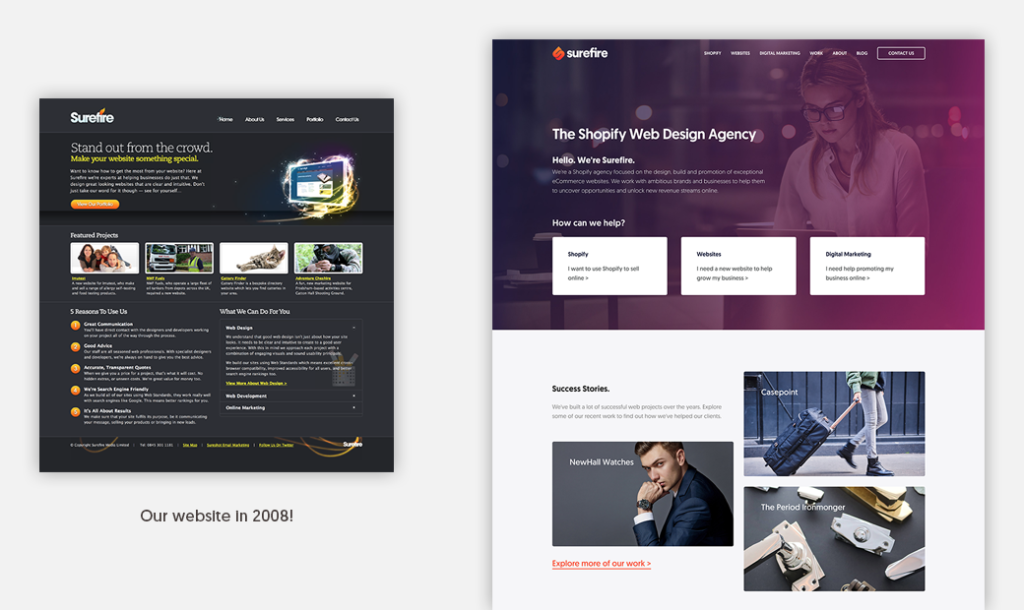 Our last site served us well, but it didn't really reflect where we are as a company today. We've been building eCommerce sites since we started Surefire, and over time this has become our area of specialism. In recent years, we've been working more and more with the excellent Shopify platform and that is now the main focus of our work.
We've also taken the time to update our portfolio of work with some recent projects, and we'll be adding more very soon.
So, please have a look around our new site, kick the tyres, and do let us know what you think. We'd love to hear your feedback.