For online retailers, when it comes to seasonality, nothing packs quite as big a punch as Christmas. According to Retail Research, the average spend on gifts in the UK is £442.40 per household, and an ever increasing percentage of these sales are made online.
In 2012 more than 20% of Christmas shopping was done online, and this figure has been steadily growing year on year, as people attempt to avoid the crowds and associated hassles of the high street.
Last year, online sales rose by 18% in December and this growth trend is set to continue, with even more shopping being done online in the run up to Christmas 2014.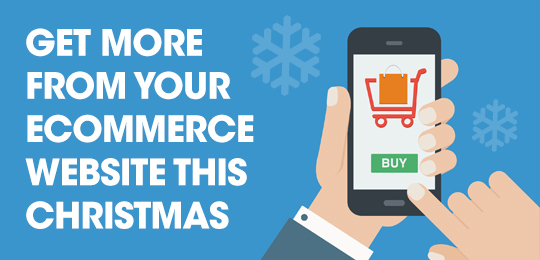 Now is the time for online retailers to start thinking about Christmas, and with some simple changes to your websites and careful strategic planning, you can help to ensure your eCommerce website delivers you better results than ever this Christmas.
5 Ways To Get More From Your eCommerce Website This Christmas
1. Consider Updating Your Website To Make It Responsive
According to Internet Retailing Christmas shopping on mobile devises grew by a massive 138% last year. This shows that more and more people are doing their Christmas shopping on mobile phones and tablet devices.
This rise in popularity of mCommerce makes it more critical than ever that your website is responsive and provides a seamless shopping experience, making it simple for people to purchase using their mobile device.
2. Consider Providing Click & Collect Delivery Options
The popularity of click & collect services continues to grow, with 25% of retail sales now being attributed to such mechanisms. If you run a physical shop alongside your eCommerce website, offering a click & collect delivery option gives customers more choice and can help to boost your sales.
Click & collect is popular in particular, with customers who live close to a physical collection location and who would prefer not to incur added P&P charges. Click & Collect also means that failed courier deliveries aren't a problem, making it a more convenient, preferred option for many customers.
3. Plan Your Sales Promotions Early
Whilst you are unlikely to run any sales promotions related to Christmas until late October, planning now is critical as it means you'll have the time necessary to come up with ideas and to create the necessary sales materials, for example adverts, blog posts and landing pages.
When it comes to sales promotions, taking a multi-channel approach is preferable as it means instead of limiting your messaging to one channel, you can reach a far wider audience. Instead of just sticking to an email newsletter, consider getting a high impact landing page and a Facebook page app designed too. Write a blog article and post about it across all the social media channels that you use.
4. Supporting Offline Activities Need To Be Planned Even Earlier
One of the big benefits with digital marketing is that it can be rapidly executed, meaning much shorter lead times. If you plan to advertise in any print publications, or if you send any printed sales materials direct to customers however, you'll need plan even earlier as lead times for quarterly publications can mean print deadlines for Christmas arrive as early as August.
Before you can design print adverts or write advertorial features, you'll already need to have both online and offline activity fully planned out to ensure cohesive messaging.
5. Now Is The Time To Update Or Create Your Customer Database
Previous customers make excellent prospects, and are likely to make a repeat purchase from you. As an eCommerce website owner, one of the most effective marketing tools you have at your disposal is your database of past and current customers.
Now is the time to collate an up to date list of all of your customers or, even better, segment the email addresses so that you can more closely target your email content to them. For example, for recent repeat customers you might want to send them a voucher code thanking them for their custom. For customers who haven't purchased from you in while, you might want to offer them a free delivery code and give them a preview of your latest products.
If you aren't currently using email to market to your customers, now is the ideal time to start. To find out more about the effectiveness of email marketing see 11 Reasons To Use Email Marketing.
Surefire Media are eCommerce and responsive website specialists. We can help you to make the most of your eCommerce website this Christmas and can support your sales promotions and marketing activities every step of the way. To find out more, you can get in touch with us here.
Our next article continues on a seasonal theme, and will reveal lots of ideas for sales promotions and marketing ideas that you can use to stimulate sales in the run up to Christmas, along with promotional ideas to carry you through the whole of Q4.