Shopify is a great platform for selling directly to consumers and is perfect for most retail businesses out there. But, what if you're a wholesaler, or want to sell to the trade as well as the general public?
The good news is that Shopify has you covered and there are several ways in which you can set up your site to manage wholesale orders. In this post, we're going to look at some of the options available to you, and some of the benefits of each.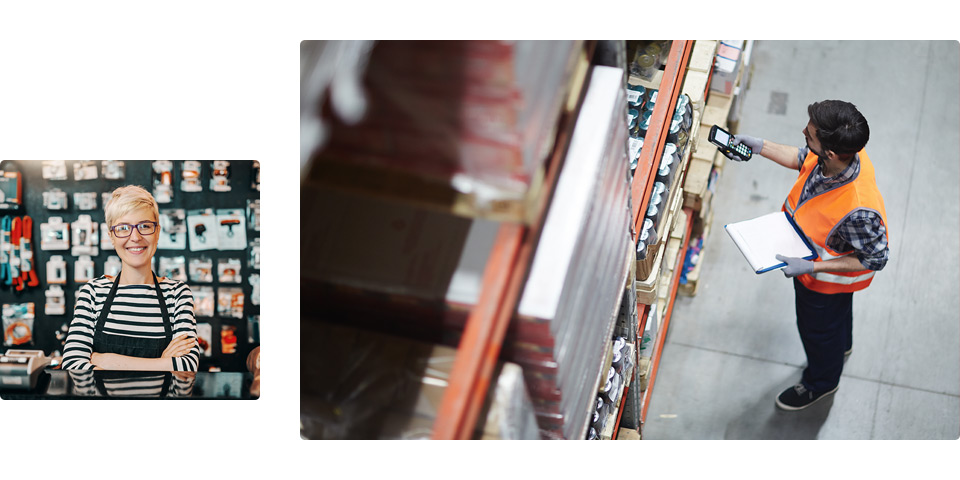 Use Discount Codes
The simplest and crudest way of offering trade pricing to your wholesale customers is to use Shopify's discount code tools. You simply set up discount codes which can be given to your trade customers to use against their order. This can be done with even the Basic Shopify subscription with no need for other Apps to be installed.
Why you should use this option
It's quick and easy to set up.
It will work with your standard consumer facing Shopify site.
You can restrict your discounts to specific products or collections.
No other Apps needed.
Why you shouldn't use this option
Lack of real control over your pricing structure and individual product discounts.
Lack of flexibility as only one discount code can be used per purchase.
Discount codes could be shared with friends or leaked online.
Who is this a good option for?
A retailer just getting started with selling to the trade or with few trade customers. If your wholesale requirements are very simple, this might be a good choice for you.


Use A Wholesale App On Your Retail Storefront
There are several Shopify Apps available that add wholesale features to your standard Shopify store. They vary in the feature set and flexibility offered, but a couple of good options are Wholesale Club and Bold Custom Pricing. To determine which is the best fit for your needs, it's a good idea to put together an overview of how you'd like your wholesale site to work, and then see which App best matches your criteria.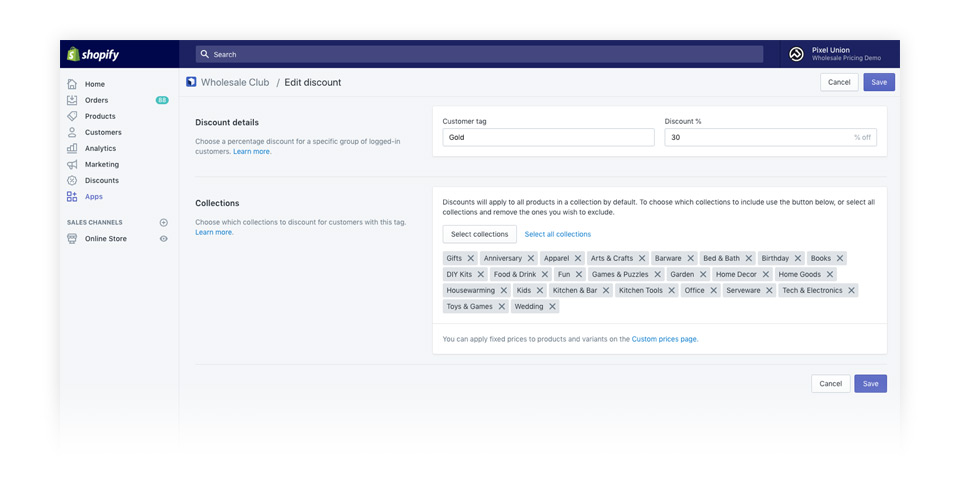 Bold Custom Pricing plays well with other Bold Apps such as Bold Discounts and Bold Bundles, while Wholesale Club offers a solid set of tools including 'Net' payment options for customers who prefer to pay on invoice. Both Apps have similar pricing and ratings from other store owners already using them.
This option allows you to sell to both the trade and general public from a single storefront but wholesale customers will need to login to your website in order to see the trade pricing options.
Why you should use this option
It will let you sell to both trade and retail from one site, so you only have one site to keep up to date and manage.
Give your wholesale customers their own custom pricelist or assign them to a discount 'band'.
Both Apps give you a good range of wholesale options to help you to configure your site.
Why you shouldn't use this option
It can be complicated to get the Apps configured properly.
This method doesn't give you total flexibility with delivery costs, VAT charge setup etc.. as some of this is shared with the retail customers.
Who is this a good option for?
A retailer who wants the option to sell to the trade and to the public from a single site but doesn't want to have to manage more than one site.


Set Up A Separate Wholesale Store
For ultimate control over your wholesale channel, the best option is to set up a separate Shopify store just for your trade customers. This allows you to tailor the store completely to the trade, from the messaging and images used throughout the site, to the way you set up delivery and tax options.
Your wholesale store can sit on its own domain or on a sub-domain of your retail store, and you can use a wholesale App (as mentioned previously) to enhance your options. A good Shopify developer can also help you to update the site so that pricing is hidden until you login without needing the whole site to be password protected.
Why you should use this option
If you want to give your wholesale customers a different user experience to your retailer customers.
You want a fine level of control over tax rules, shipping options etc…
You want to incorporate trade only content within the site.
Why you shouldn't use this option
You don't want to have to maintain two sites.
You're on a tight budget and want to keep your ongoing costs low.
Who is this a good option for?
A business that does (or is aiming to do) a lot of trade through wholesale and wants the best possible experience for their trade customers.


On Shopify Plus? Use The Wholesale Channel
If you're on Shopify Plus, then you can use the Wholesale Channel to expand your business into the B2B market. This will allow you to sync your trade orders with your existing store, offer wholesale-specific pricing, set minimum order numbers and more.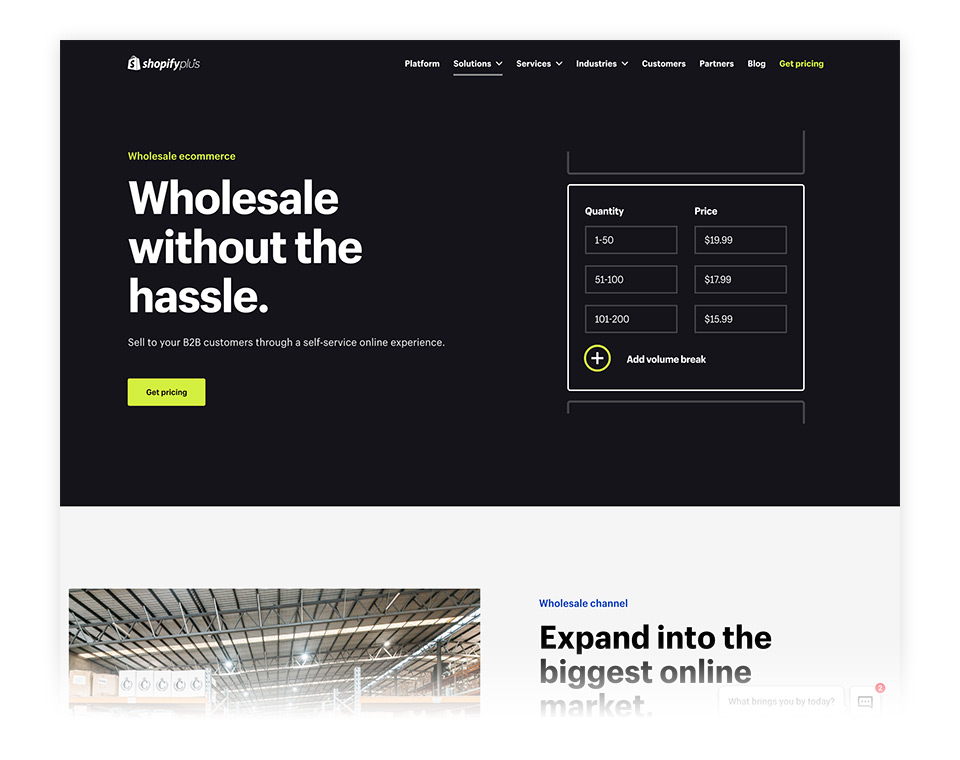 The Wholesale Channel creates a new password-protected site which your trade customers can login to in order to access a customised catalogue of products and their own bespoke pricelist. It uses your existing store as a basis for this site but you can then customise it for your trade customers.
Why you should use this option
You're on, or considering using, Shopify Plus.
It syncs orders, inventory and customers with your existing retail storefront.
It gives you a lot of control over what your individual trade customers can access and the pricing they qualify for.
It has good tools for inviting and managing your trade customers.
If your main site is integrated with your back end systems such as a CRM or OMS, this will work with the same integrations.
Why you shouldn't use this option
Wholesale Channel sites aren't indexed by search engines so don't appear in Google's search results.
You're not on Shopify Plus and currently doing enough revenue through your site to justify the cost.
Who is this a good option for?
Retailers who are using Shopify Plus and want to open up a B2B site that integrates with their existing Shopify site and integrations.


As we've seen, Shopify can make it easy for you to sell to trade customers, and there are options to suit most businesses. If you're looking to get started with wholesale, get in touch today and our team of Shopify experts will be able to help.