Shopify offers you two different ways to build your eCommerce store. You can choose an off-the-shelf Shopify theme as a starting point and then customise it to match your brand, or you can design your own unique Shopify theme from scratch. Each method has its benefits and drawbacks, but we're not going to talk about that here. We're going to presume you want to customise an off-the-shelf theme and focus on how to choose the right one for your site.

Buy From The Shopify Theme Store
First of all, I'd recommend that you buy a theme from the official Shopify Theme Store. You can get them from other websites and marketplaces such as Theme Forest, but if you buy direct from Shopify, you know that you're getting a quality theme that has been through their strict vetting process.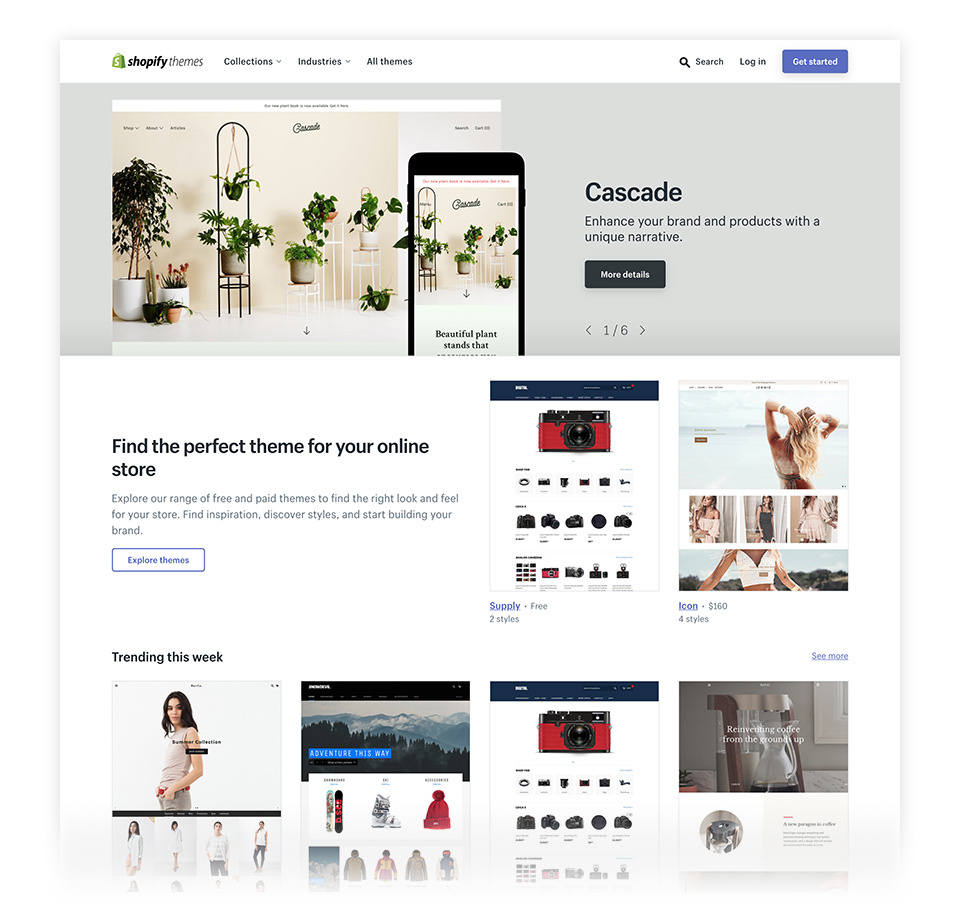 The theme store also allows you to road test themes before you buy. The interactive demos give you a good feel for how a theme behaves, and how certain features work. Support for themes bought from the official store also tends to be good with fast response times from the theme developers.

Getting The Right Look And Feel
Most themes tend to offer a good selection of customisation options such as the ability to change the colours of page elements or choose from a selection of fonts. The photos and images that you use on your site can also change the overall feel quite dramatically too. You should however, start with a theme that has the right basic style and structure that you want for your store. You can't drastically alter the theme without some serious custom development work.
Let's say that you're selling fast fashion; you probably want a clean, modern design with the ability to use large scale photography. If you're selling toys, you probably want a fun design, with lots of colour.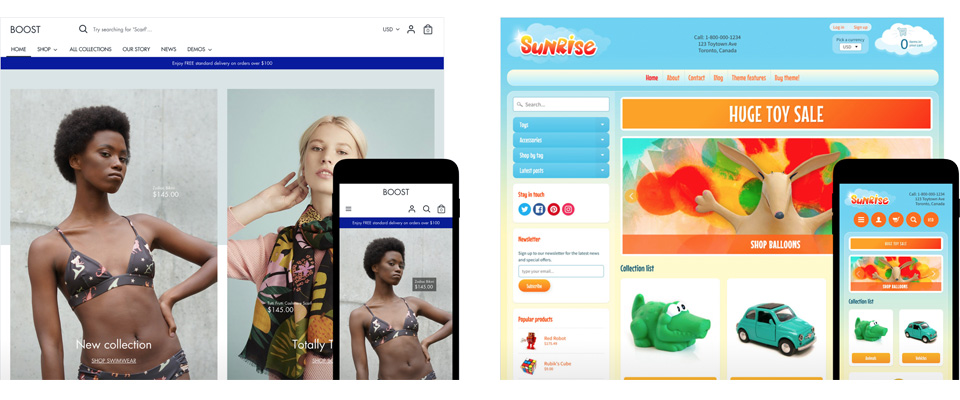 The point is you need to think about your brand and product range, and if the theme is a good fit. Consider your target audience – will the design appeal to them? Does the theme match their expectations of how your brand should look?

Consider Your Feature Requirements
Every theme comes with a range of features built-in right out of the box. Not all themes have the same features though, so you need to think carefully about the ones you consider to be vital, which are nice-to-haves, and which aren't important.
Let's say that you have a large product range and you want to make it easier for your customers to find the products that match their requirements, then product filtering options from collection listing pages should be a must-have feature. You'll have seen this on most big retailers sites from John Lewis to Amazon; these will allow your customers to quickly filter your range by colour, size or brand.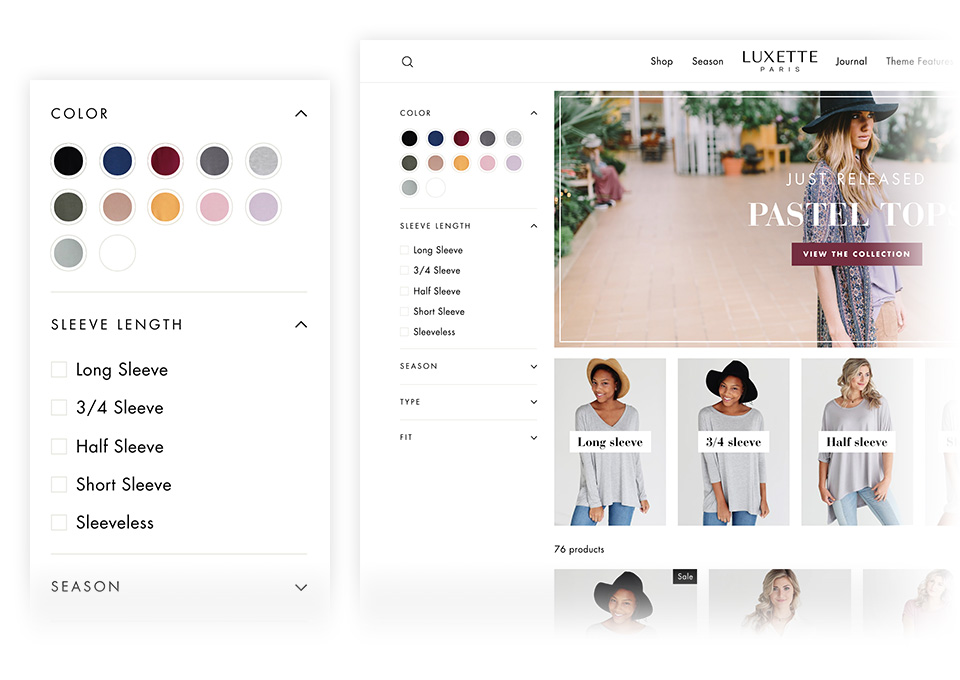 If social makes up a big part of your marketing strategy then you might want an Instagram feed on your homepage. If you've had some cool videos of your products shot, then you want a theme that can showcase these right on the product detail page.
You can always use a Shopify App to plug in any additional features you want, but it's best to minimise the number of Apps you add to your site. As a general rule, the more apps you're running, the slower your site becomes and the messier your code gets. A feature that is built into a theme will tend to be integrated better into the style of the site, and flow of the user journey.
Before you even begin looking for a theme, I'd recommend that you sit down and make a list of your must-have and nice-to-have features. This will help you to create your shortlist, and quickly rule out the ones that just aren't suitable.

Check Out The Key Pages
Most eCommerce sites have a series of pages that make up the core user journey on their site. These include the homepage, the collection listings pages, the product detail page, and the basket.
You should evaluate each of these on any theme that you're considering to see whether they match your expectations. You'll have your own criteria for each of these pages, but some examples you might think about include:
Does the homepage have the content blocks or sections that you want?
Does the listings page allow for filtering?
How big are the product images on the product detail page?
Is the basket easy to understand?
Again, make a list of your must-have and nice-to-have criteria and evaluate your theme choice by them.

How's The Mobile Experience?
Mobile browsing has blown up over the past few years and it is now very common to find that the majority of traffic to a Shopify store is from mobile devices. With this in mind, it should be a top priority to make sure that your site offers your mobile visitors a great experience.
Fortunately, it's easy to check how a theme performs on mobiles by using the Shopify Theme Store's demo function. You can browse the store and demo themes right on your smartphone, or if you're using a desktop computer, you can toggle the mobile view in the demo mode using the viewport icons at the top of the screen.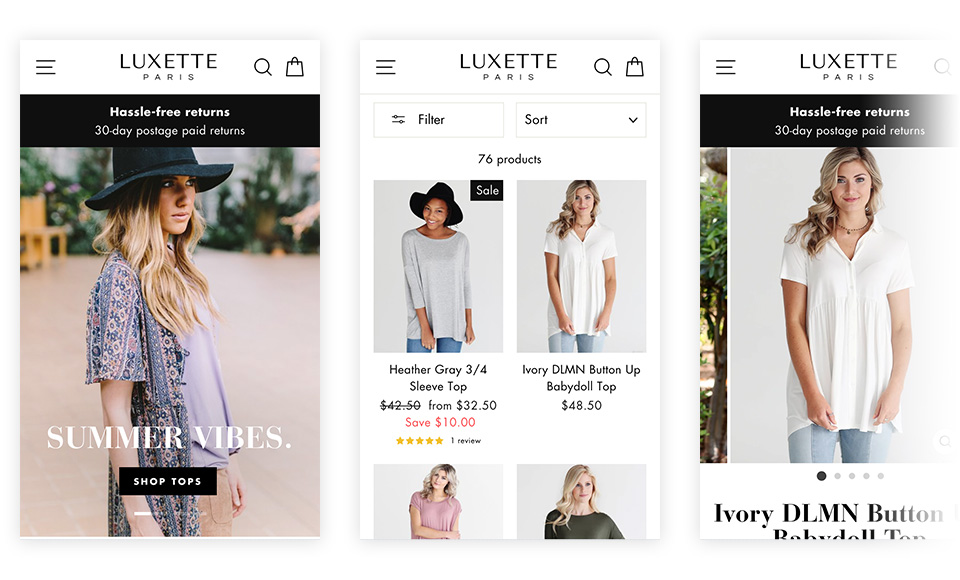 When demoing the theme on your mobile try out the key pages we talked about earlier. Check the navigation and how the menus work. Play with the sorting and filtering options on the listings pages. Look at the product detail page and check how easy it is to view all of the images of a product and then add your preferred option to the basket.
If your theme doesn't work well on mobile devices, you could potentially be costing yourself a lot of sales.

Working With An Agency To Customise Your Theme
If you want to get the best out of your theme, you can use a Shopify Partner Agency (like us) to help you to do the customisation. A good agency will take all of the above into consideration and find out about your requirements before helping you to select the right theme as a starting point.
Once the right theme has been selected, they will be able to customise it to a high level, create graphics and other elements for the site that match your branding, and ensure that your site is well optimised.

In Conclusion
In summary, you should always think carefully about your requirements before diving in and purchasing a Shopify theme. A little planning and research up front could save a lot of time and cost further down the line when you realise that your theme doesn't really perform how you need it to.
So, make a list of your must-have features, think about your brand and visuals, and demo any theme on your shortlist before making a final decision.
If you need a hand with Shopify theme customisation, we'd be delighted to help. Just get in touch for a free initial consultation.