As well as being Google Analytics certified, we're pleased to announce that our marketing lead, Shell Robshaw-Bryan, has been re-certified again and remains a qualified Google Ads Search expert until November 2019.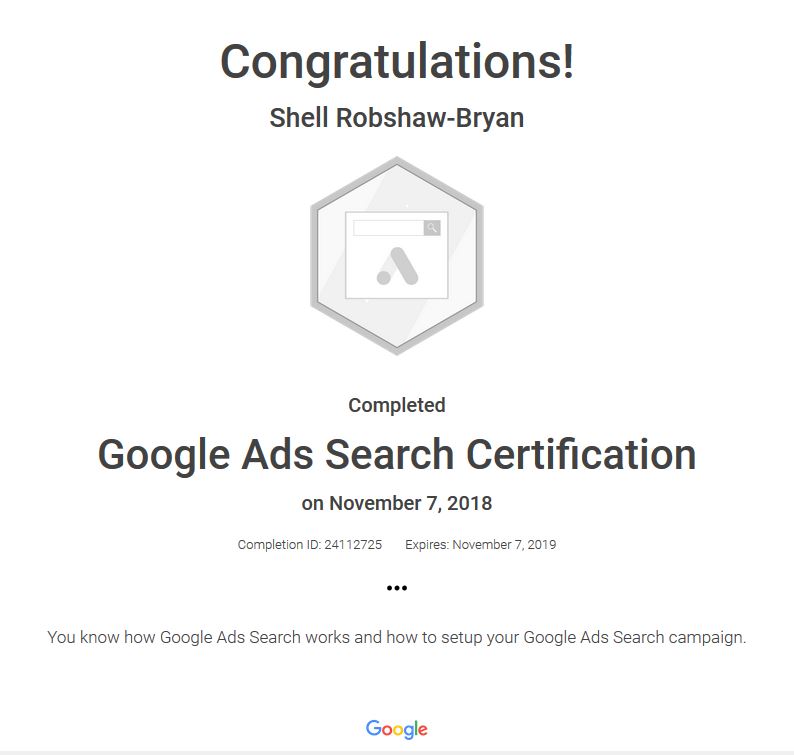 So whilst Shell celebrates her continued Google Ads Search certified status, let us explain what this means for the clients we work with.
Your PPC Advertising Spend Is In Safe Hands
Ads certification means that we can help you get the best out of your Ads spend. It's not difficult to set up and get started with Ads; anyone with a little technical skill can have their ads up and running in a couple of hours. To get the most from it however, takes experience and skill to make sure your spend isn't wasted, that you achieve a good click through rate, and a positive ROI. That's where we come in.
To give your ads the best chance of attaining a decent click through rate (CTR), our primary task is to ensure that your Quality Score is as high as possible; that's because the higher your overall Ad Rank, then the less you'll have to pay for clicks.
As part of maximising your Quality Score and optimising your ads, we look at every aspect of your campaign, including;
Site link and other kinds of extensions
Negative keywords
Matching types
Geographical targeting
Landing page experience
Bid adjustments
Let's Make Your Ads Campaign Better
So, whether you're completely new to Ads, you've tried it before but not had great results, or you have current campaigns running that aren't performing, talk to us. We'll help you get the most out of your PPC advertising spend.
Save
Save
Save
Save