With Black Friday firmly established in the nation's shopping habits, you should be taking part if sales and discounts are part of your strategy. Consumers are ready to buy, and waiting for a deal. It's likely that they're putting off purchases in October / early November in anticipation of the BFCM weekend.
To give your store the best chance of record sales this year, you need to plan ahead. Here's what you need to do to get your Shopify store ready for Black Friday and Cyber Monday.


Get Your Site In Shape
Your Shopify site is where all the action will be taking place, so you need to make sure it's up to the job. If your site has any usability problems or issues with the user journey, get them sorted out now ahead of BFCM.
Now isn't the time to be adding new features or making drastic changes to your site – focus instead on making sure that your current site works as well as it can:
Fix those little bugs or display issues that have been annoying your customers.
Make sure your site navigation is intuitive and things are easy to find.
If you're running any Shopify Apps, check that they're working properly and not slowing your site down.
If you don't have an abandoned cart email series set up, then get this done. These are proven to really boost your conversion rate.
If you want to really know how your customers are interacting with your site to identify any issues with your customer journey, try installing a behavior analytics tool such as Hotjar. This will show you exactly where people are getting stuck and what people are clicking on.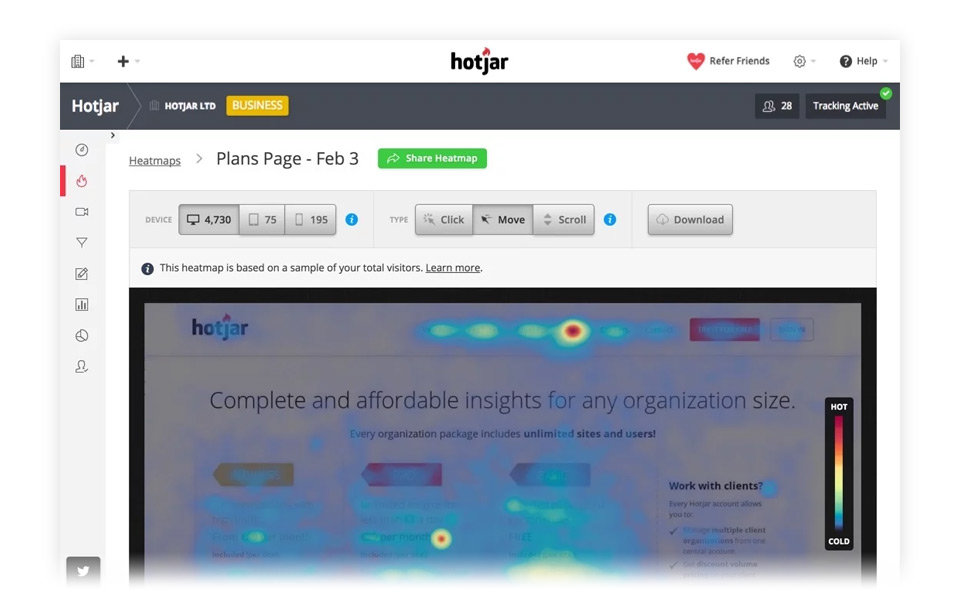 Decide Upon Your Deals
People expect a good deal on Black Friday, so you need to be prepared and know what products you'll offer at what discounts. You could keep things simple and just offer a percentage off site-wide, or you could pick out some select products for your big headline discounts.
Discounts need to be eye catching and attractive to customers. 5 or 10% off isn't going to excite anyone unless you sell a very high ticket product. Anything from 20% up should do the trick. In theory, the bigger the discount the better, but you might find that there isn't a huge difference in sales of a 25% discount and a 50% discount. You still need to make your margins.
Whatever you choose though, make sure you plan this in plenty of time so that you know exactly what you're offering. It's a good idea to put together a spreadsheet to keep track of your planned deals.
You also need to think about when you're going to release your deals. Black Friday isn't just one day any more, with some retailers running sales for a week or even more. Are you going to set your stall out with all of your deals straight away on Black Friday, or are you going to release new deals over the weekend to keep people coming back?
Do be wary of changing the discount on specific products over the weekend however. Your customers won't appreciate it if they think they've bagged a bargain on Black Friday only to see another 20% knocked off on Cyber Monday.
Finally, don't forget about up-sells and cross-sells. If you've got a deal on a pair of shoes, cross-sell some insoles or heel protectors. If you've got a deal on cameras, offer a bundle with a bag and a tripod. These little extras can really boost your bottom line over the weekend.


Prepare Your Landing Pages
You should create a Black Friday landing page on your Shopify store which will act as a hub for your BFCM activity. This can be used not only over the BFCM weekend, but also in the run up to build interest and get your customers excited. You can incorporate little teasers and previews of your deals, a countdown timer, and consider adding an email sign up box so customers can stay informed.
For the BFCM period itself, you should also run a homepage 'takeover' where you focus it on your Black Friday deals. Here's what to keep in mind:
Make your discounts prominent
Keep your messaging clear and concise
Create banner graphics that link through to key deals
Feature your best deals prominently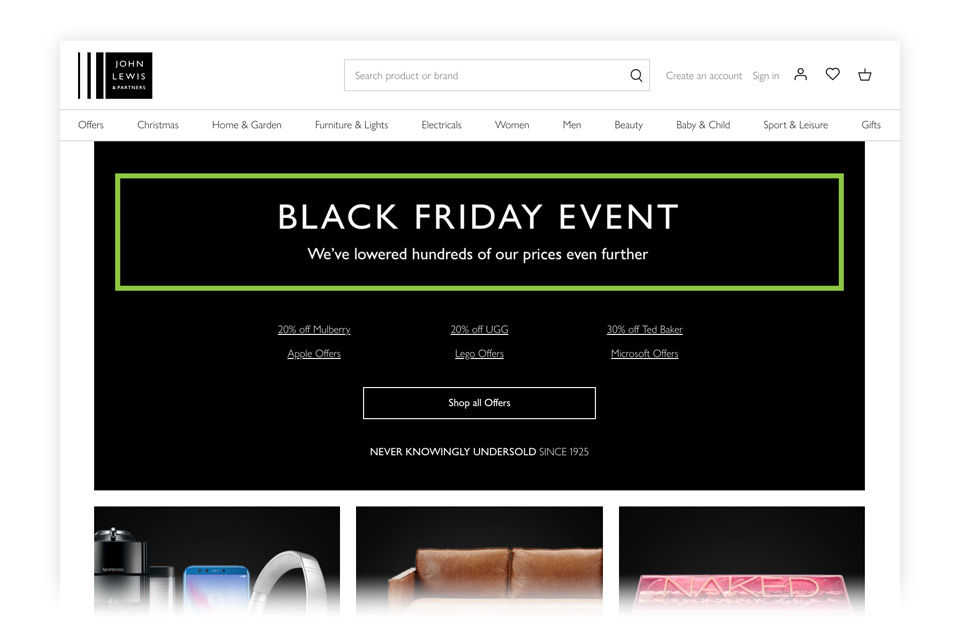 Incorporating a Black Friday link into your main site navigation is a good option too. Link this to your landing page, and it makes accessing your deals from any page of your site easy.


Get The Word Out
Once you've decided on your deals, and your site is prepared and ready to go, you need to get the word out. What will your strategy be for promoting your deals using email, social media, and paid ads? It's essential that you plan out your strategy so you know what messages you'll be sending out and when.
Email marketing should definitely be part of your plans as it's still one of the best marketing tools available to you. You should already have an email list of previous customers who know all about your brand, so make the most of it.
Ideally, you want to send a series of emails over the BFCM period to keep you at the forefront of your customers' minds. At the bare minimum you should aim to send:
A preview announcement email before the BFCM weekend, teasing your deals and letting customers know that some great offers are on their way.
An email starting the deals early on Black Friday (or even earlier if you want to release them before everyone else) highlighting your best offers.
A 'last chance to buy' email on the last day highlighting to customers that this is their last chance to grab that bargain.
With social media, make sure that you have a posting / content calendar prepared, and that your posts are all scheduled, graphics created, and ready to go. Focus on your best performing channels, and make sure that your offers are clear.
If you're releasing deals gradually over the weekend, then use your social channels to announce them as they go live. Let your followers know that you'll be doing so at regular intervals to encourage them to keep an eye on your posts.
Paid Ads (think Google Ads, Facebook Ads etc…) can be a little more expensive during BFCM weekend, but if this is part of your strategy, then planning ahead is a must. Get your ads prepared in advance so that you have the time to craft attention-grabbing ads that stand out amongst the competition. Also think about your landing pages and where you want to be sending the traffic when they click on your ads.


Behind The Scenes
BFCM will be one of the busiest times of the year for your site, so your team and processes need to be ready to go. Here are some tips to keep your operation running smoothly when the orders start flying in.
Prepare a staff rota so that all members of your team know when they will be working and what tasks they will be expected to perform.
Live chat can be an excellent conversion booster, so make sure that it's manned over the BFCM weekend so that you can quickly deal with customer questions.
Try not to rely on just one courier. They will also be having one of their busiest times of the year, so having a backup option would be a smart choice if capacity is an issue.
Stock up on packaging supplies because if you're taking more orders than usual, you're going to need more boxes, packets and envelopes, right?
Consider using a Shopify backup app such as Rewind. If the worst happens and your site goes down during peak Black Friday, this makes restoring it easier, and gets you back in the game faster.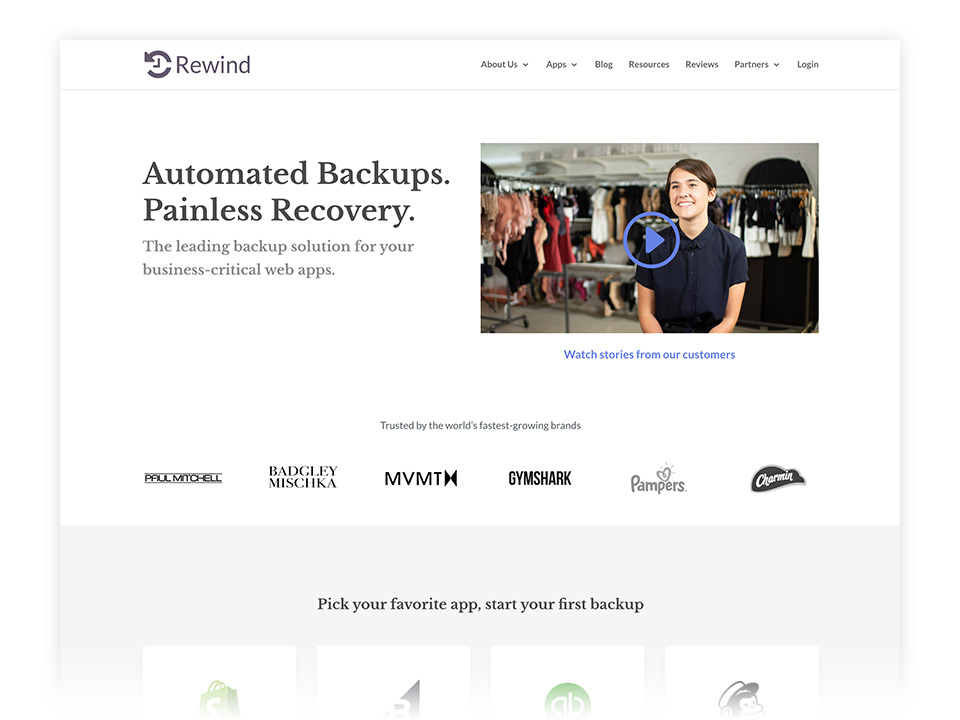 You can't plan for every possible scenario, but having contingency plans in place for standard operations is a good idea. It could get you out of a hole if unforeseen problems arise.


You're All Set
As we've seen, there are a lot of factors involved in running a successful BFCM campaign, but the key thing is to be prepared. Follow the advice above, get everything ready to go in advance and you could have your best sales weekend ever.