For visitor attractions holding special events, spreading awareness in the local community and getting found in Google is imperative to their success. Last summer, we were approached by a Cheshire visitor attraction who wanted to promote a big upcoming seasonal event. It was also important that they ranked well in Google for all relevant search terms. We were delighted to be able to achieve some outstanding results for them.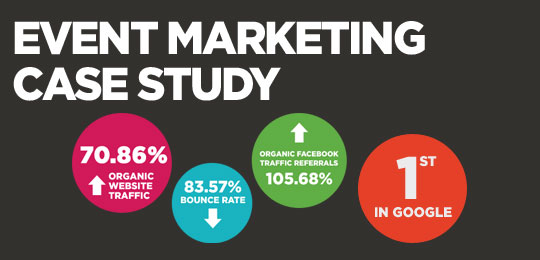 Our Brief
As well as wanting us to market a seasonal event, generating awareness and online bookings, our client also wanted to make sure that they were ranking on the first page of Google for a number of specific search terms; as at that time, they were not ranking inside the top 50 for any of them.
What We Did
In order meet our joint objectives of ranking well in organic search and increasing awareness of the event, we planned a cross-channel marketing campaign, that included a number of integrated activities.
The first thing we wanted to do was provide information about the event on the website, so we created a new content rich page containing detailed information about the event, including picture and video content, as well as online booking which was fully optimised.
Next, we created an optimised news article on the website, providing an exciting and informative summary of the event, how to book info and social media follow links. To support this new content, we created a number of high impact custom graphics and banners in a variety of different sizes and formats to suit the clients website and various social media networks. We created an email marketing campaign, targeting past customers with a special booking promotion and encouraging them to look at our event teaser videos and pictures and to join in on social media.
We fully managed all social networks, creating posts that not only raised awareness of the event, but also resulted in high levels of engagement that were successful in driving both website traffic referrals and online bookings. Throughout the campaign we regularly monitored social media, responding to customer questions, posting video and picture teasers, drumming up excitement and we also ran a competition for followers to win tickets to the event.
From a PR point of view, we were in close contact with a number of leading national and local family days out websites. Building relationships with third parties in this way allowed us to benefit further from social media and blog posts which promoted the event on our behalf, and allowed us to widen our reach.
The Results
By taking an integrated multi-channel approach, we were able to rapidly achieve outstanding results. In less than 2 months, as well as generating significant buzz and high levels of engagement, we had the website ranking at number 1 in Google for our main search terms. We were number 2 for all other closely related search variants, and in the top 5 of Google for all 10 of our targeted search terms.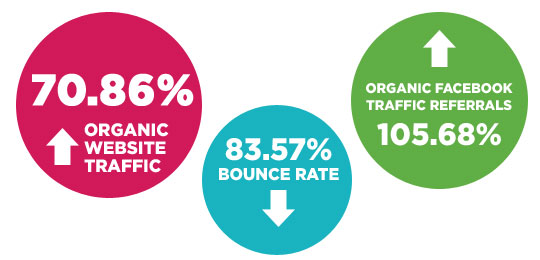 Key Achievements
Number 1 in Google: 70% of targeted keywords
Top 5 of Google: 100% of targeted keywords
Organic website traffic: 70.86% increase
Bounce rate: 83.57% decrease
Facebook traffic referrals: 105.68% increase
Twitter traffic referrals: 422.73% increase
Pages viewed per visit: 72.64% increase
All stats are based on the 3 month period of SEO and promotional activity from August 2013 to October 2013. Comparisons relate to the 3 month period immediately prior to this, May 2013 to July 2013.