Earlier this year we built a brand new eCommerce site for Cheshire based equestrian supplier, Equiport. We'd built their previous site about 6 years earlier, but a lot changes in that amount of time online. The new site incorporated a raft of new features, better admin tools and a complete design overhaul.
Results since the relaunch have been impressive so far with substantial increases in page views, time spent on the site by visitors, and most importantly, sales. Each month since launch has seen sales double compared with the same period in the previous year.
The run up to Christmas is traditionally a very busy period for Equiport, and with a fresh new website, they wanted some ideas for boosting their Christmas sales further still. We came up with and implemented a multi-channel campaign to help them to achieve this.
Christmas Gift Guide Microsite
The Christmas campaign is centred around a custom-designed Christmas Gift Guide area of the main website. This sits within the existing website framework but adds a festive touch to the design. We created main categories of gifts targeting different segments of their customers and then incorporated the standard website product listings into this area. The result makes it easy for visitors to find the perfect gift for the lady (or horse) in their life.
Visit the Christmas Gift Guide >
Custom Facebook App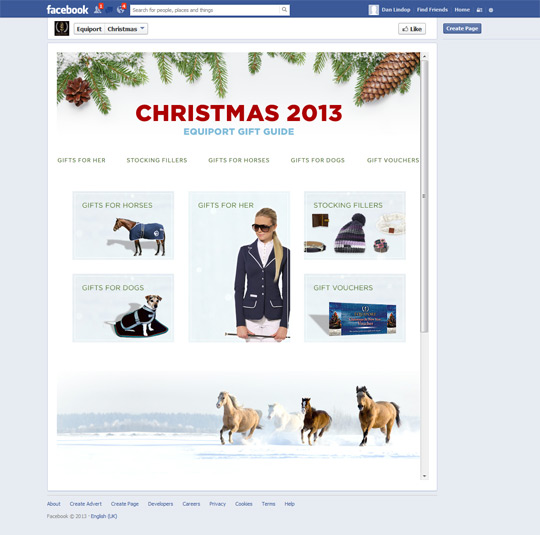 We then built a custom Facebook app which replicates the Christmas Gift Guide within a tab on Equiport's Facebook page. Again, the user can click on a gift category and then see product listings right within Facebook. When a user wants to see a product in more detail, they can click on the item and they are taken to the exact page in the main website where they can purchase. Equiport have a large number of followers on Facebook so this app gives them another route to a web-savvy group of their customers.
Admin Tools
The microsite and Facebook app were integrated with the main website admin system. This means that Equiport staff can quickly and easily make changes to the Gift Guide using the tools they are used to for updating the main site. We also designed the Gift Guide in such a way that it uses the same product listings and pictures as the main site, meaning a minimal amount of work is required to update it.
Email Marketing
Once the microsite and Facebook app were live, we then started work on promotion of the Gift Guide. One of the first tasks was to design and build an email campaign to send to Equiport's healthy subscriber lists. We created an attractive email which uses graphics and branding that tie in perfectly with the Gift Guide. This was then sent out to all of Equiport's previous customers and their newsletter subscribers. Additional campaigns were also planned for the weeks running up to Christmas.
Additional Graphics & Promotional Materials
We also created a range of supporting graphics and banners for the Christmas promotion to be used in various places. These included a large homepage banner for the main website, banners for within the Gift Guide itself and additional imagery for the Facebook page. Using the same branding and graphical style across all elements of the campaign really ties all of the strands together and helps with customer recognition.
The Results
We launched the Gift Guide at the start of November so we don't have conclusive results as yet. We'll update this post after Christmas with the facts and figures. The early signs are looking very good though.
If you need help with your digital marketing this Christmas or would like to find out how we could help you, please get it touch.