The Black Friday phenomenon has grown to such an extent, that there are now very few retailers who don't run sales during this busy period. With sales expected to be up a whopping 32% on last year, Black Friday spending this year is expected to surpass £1bn for the first time.
Whilst cannibalising your profit might not be a realistic option for all, promoting even a handful of loss leaders can prove lucrative. With shoppers primed to buy, and hungry for a pre-Christmas deal, Black Friday sales have caught on in a big way. We take a look at what some of the big brand retailers are offering this year, and highlight some takeaway marketing tactics you can use for your own eCommerce website.
Amazon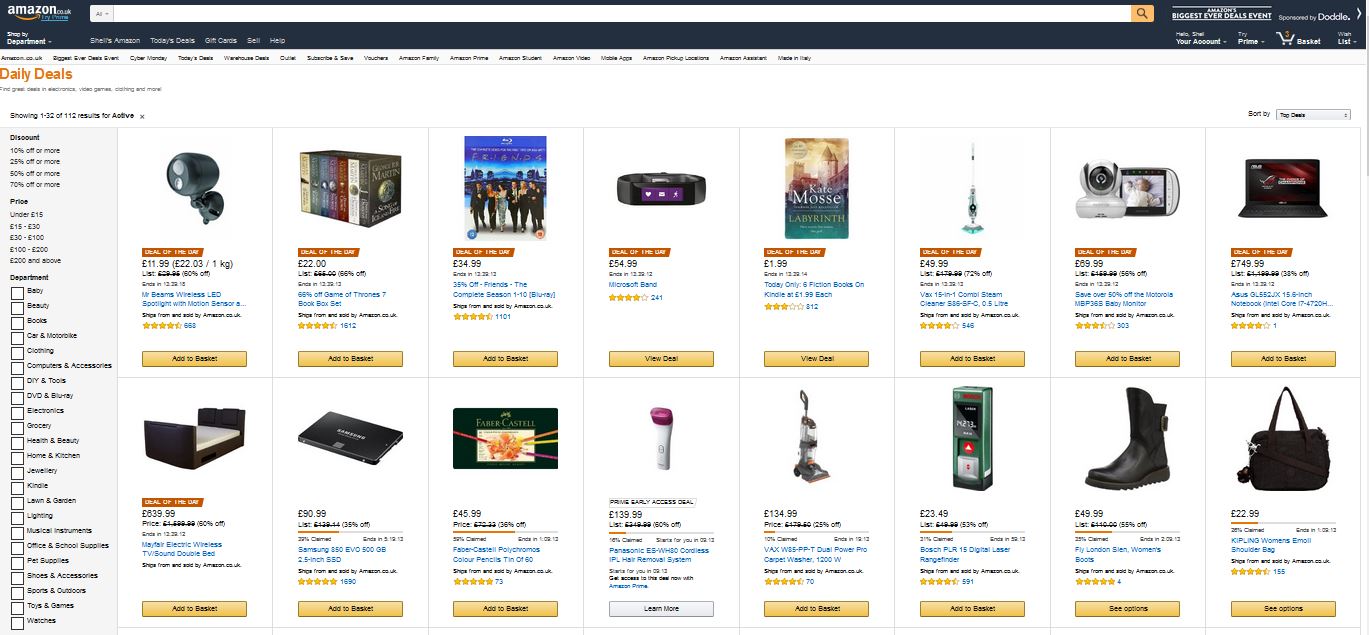 Amazon.co.uk was one of the first to bring Black Friday deals to the UK, and remains at the forefront of brands associated with amazing deals. In the run up to Black Friday this year, Amazon have been promoting their daily deals.
By counting down the time left until the daily deal ends, they are effectively creating a sense of urgency, influencing people to buy quickly; helping them benefit from impulse buys.
Debenhams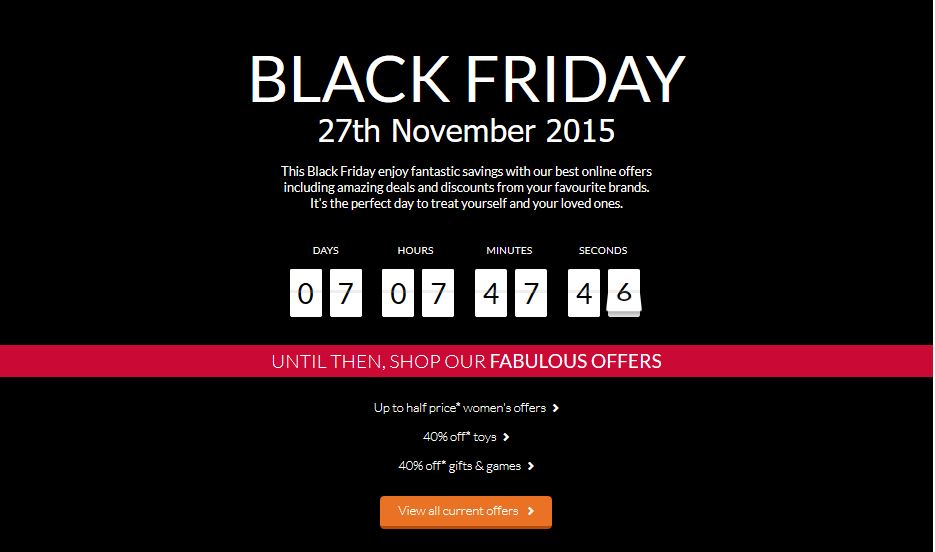 Debenhams jumped right in this year. Over a week before the event itself, they were using Google AdWords to gain traction for their Black Friday sale, running with the message of "Why wait until Black Friday?". Starting early is becoming increasingly commonplace and is a good way of spreading demand over a number of days.
Argos
Argos have really made the most of their landing page. Not only did they start their Black Friday sale early (it runs until the 1st of December), but they are also promoting their Christmas 3 for 2 offers. This tactic helps them make the most of Black Friday traffic, helping them boost sales over a more sustained period.
John Lewis
Of course when you think of John Lewis, you don't automatically think cut-price, but that's not stopped them capitalising on Black Friday bargain hunters. However, their messaging in the run up to Black Friday was perhaps unnecessarily ambiguous.
True to their brand, they talk about being 'never knowingly undersold'; but this leaves me unable to work out if they will be running a Black Friday sale themselves or price-matching competitors when required.
House of Fraser
House of Fraser don't give much away, but are effectively capitalising on buyer intent in advance of Black Friday. They encourage shoppers to leave their email address and point visitors in direction of their existing offers.
Black Friday Promotion Tips
Take a leaf out of Debenhams book and launch your deals early; and utilise Google AdWords to gain traction.
Time limit your deals, and use a countdown timer to urge shoppers to purchase sale products sooner rather than later.
Like Argos, you can use Black Friday traffic to drive interest in other offers or different product ranges.
Don't limit your Black Friday sale to one day, start early and end later.
Avoid ambiguity in your pre-sale marketing. Make sure your messaging is clear and concise.
Gather email addresses with the promise of an alert before your Black Friday sale starts, or even better give those who sign up a head start on the deals by opening them early to mailing list members.
Need a hand with your marketing?
From Black Friday and Cyber Monday sales to Christmas gift guides, we can help with any seasonal promotions you might want to run. We'll come up with ideas and create everything you need including landing page, banners and social media graphics. We can even help you spread word about your promotion via Google AdWords, social media, blogging and email marketing.
Give us a call on 0845 301 1181 or contact us here.